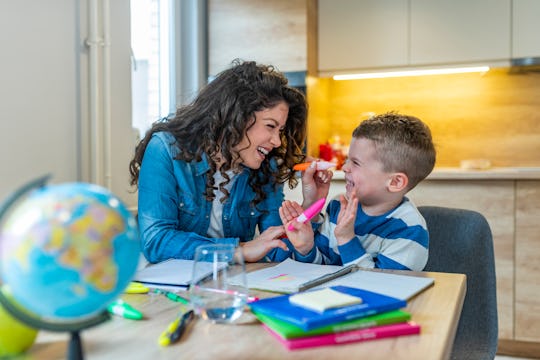 Shutterstock
Teachers Will Legit Love (& Use) These 25 Holiday Gifts
Skip the apple this time around.
Y'all, I know your coffee mugs are well-intentioned, but I'm here to tell you that those are not what teachers want for the holidays. I'm married to a teacher, the daughter-in-law of a teacher, and the best friend of a teacher. I've watched these people work hours into the night grading papers, show up at 6 a.m. to school for tutoring sessions, take kids on field trips over the weekend, supply kids in need with extra meals, and constantly reinvent education in order to connect with students in new and better ways. Put simply, they work incredibly hard. If you really want to show them you appreciate them, these 25 gifts for teachers are ones they'll actually love.
The key to finding a holiday gift for teachers is to first ask yourself, would I like this? For real. If it's something you'd never want to receive, then why give it to a teacher? Next, ask yourself, is this appropriate? A pair of boxers? Not so much. Wine? By all means.
Also remember, yes, it truly is the thought that counts. Just taking the time to remember a teacher will make them feel so special. My husband has held onto gifts students from 10 years ago gave him, and he still remembers them fondly each time he uses them. So, even taking the time to gift a teacher is already like doing extra credit, although we promise you're not being graded on this (well, maybe a little).
We only include products that have been independently selected by Romper's editorial team. However, we may receive a portion of sales if you purchase a product through a link in this article.
Now that we've done your homework for you, it's time to get to shopping. Teachers will thank you for it.
This article was originally published on