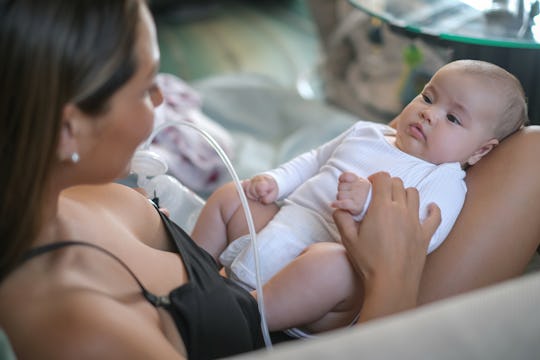 Kanawa_Studio/E+/Getty Images
15 Breast Pump Bras For Hands-Free Pumping
So you can actually get other things done.
It doesn't matter if you're an exclusive pumper, if you're supplementing with formula, or if you pump so you can build up a breast milk stash, a lot of pumping parents agree on one thing: Pumping without a hands-free bra can be a hassle. I never had any breast pump bras, and it's one of the products I really wish I had bought back when my baby was breastfed.
For me, trying to do anything while pumping was impossible, and even though I had a double electric pump, I could only use one breast shield at a time. I'm not sure why I never picked one up, especially since I had several nursing bras, but heed my warning, pumping parents — you want a pumping bra.
"Breast pump bras are very useful for the breastfeeding or exclusively pumping moms," Susie Condict, RN, IBCLC, lactation consultant at Maven Clinic, tells Romper. "Having a hands-free bra allows the mother to keep the pump flanges in place while having freedom with her hands and effective breast support, which adds to the convenience of pumping."
That freedom is genuinely worth it, especially as new parents have so many things to do in addition to nursing. "Moms' arms and hands can get sore from having to hold [the pump] up and will even discourage them from pumping frequency," says Condict. "The freedom of a pump bra allows mothers the ability to take care of their baby while pumping and provide more attention to their other children."
What to consider before shopping for a pumping bra
Since there are so many breast pump bras out there on the market, it can be difficult to choose one that fits your lifestyle. Some are perfect for the office while others are better left at home. Some can pull double duty as a nursing and pumping bra, and some are to be used only while pumping and then stored in your bag for your next session.
"There are different styles to the pump bras to fit moms' needs, as well as the consideration of owning two or three to have clean ones available at all times," Condict says. "The recommendation is to try different styles and sizes at 36 weeks [pregnant]. It is important to choose a bra style that has the ability to adjust to breast changes. A nursing tank or gown with built-in bra are also great options to have for variety and comfort of the mother."
Just note that sizing really matters with breast pump bras. If one is ill-fitting, it could actually pose some major problems, as Condict explains. "Safety issues with using a pump bra would be if it were too tight and constricting the breast," she says. "This could lead to increased inflammation, clogged ducts, and potential risk for mastitis. Underwire is also not suggested for the same risk. The recommendation is to be sized."
No matter what kind you need, these 15 breast pump bras have the reviews to back up their quality. Put your favorites on your wish list and marvel at how much you can get done while pumping, even if it's just having two hands free to eat a hot meal for the first time all week.
We only include products that have been independently selected by Romper's editorial team. However, we may receive a portion of sales if you purchase a product through a link in this article.
You'll be surprised a how much a simple addition like a breast pump bra can make things easier for you. Having your hands free will allow you the freedom to cook a meal, read a book, and generally take some much-needed time for yourself during the day.
Expert:
Susie Condict, RN, IBCLC, lactation consultant at Maven Clinic
This article was originally published on