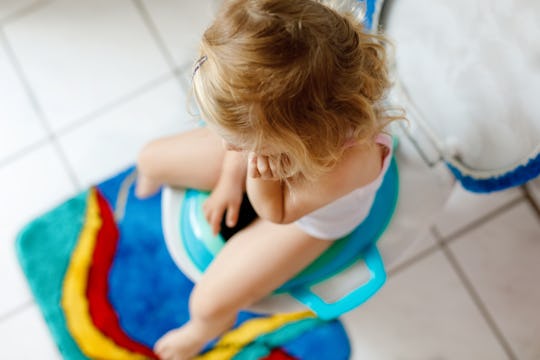 Shutterstock
7 Truths About Potty Training You Can't Ignore
Yes, letting your kid run around naked can actually help.
I had two kids in diapers at the same time, which meant I was changing 200 diapers a day. OK, that's a bit of an exaggeration, but it felt that way. I daydreamed about my oldest being able to clean his own behind — so I started buying him underwear. Diving into research mode, I begin investigating how to potty train. Friends and books were giving me so much conflicting information, and it wouldn't be until going through the process myself that I would learn there are some myths about potty training that are actually true.
This phenomenon was clearest to me after potty training my second son. The differences in the experiences with the two of them were completely opposite. Noticing these discrepancies, I started to understand how some potty training facts end up becoming so widely accepted as myths. Each person's experience gives them information to share with other moms, and as the stories are passed along, some pieces emerge as myths or what "doesn't work" when you're attempting to potty train. So if you're embarking on the journey that is potty training, take into account these six myths that are actually true about teaching your child to use the toilet.
Every child is different, and what worked for your first kid might not work for the next. Ultimately, it comes down to whatever makes the process easiest for you as a parent and minimizes the mess (and tears) along the way.
Expert:
Dr. Jessica Madden, M.D., board-certified pediatrician, neonatologist, international board-certified lactation consultant, and medical director at Aeroflow Breastpumps
This article was originally published on