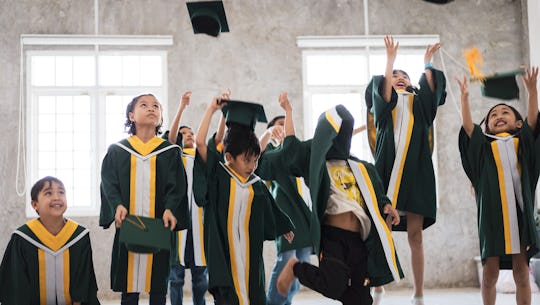 TwilightShow/E+/Getty Images
Share Your Pre-K Graduation Pics With These Emotional Instagram Captions
You think high school graduation is going to be tough; try sitting through pre-K graduation without shedding a tear. Suddenly your baby is advancing to elementary school! Surely that deserves a picture to go with a great pre-K graduation Instagram caption or quote.
But what to write? If pre-K has been a wonderland for your child, it might be fun to highlight all they've learned and the fun they've shared with their teachers and classmates, from milestones such as learning to write their name to making their first real friend. Or, if you're having trouble accepting this next step in their early childhood education, you could write a caption that speaks to the overwhelming emotions of watching your baby grow up.
The main idea is to capture the moment and celebrate it. It's not every day a little person ons a tiny cap and gown and receives a pre-K diploma and probably a present (you're gonna want to scrapbook that, for sure). And when you look back, you want to remember the memory fondly, not with a cringe-worthy caption that maybe focuses on the here and now and not the long-term ramifications of this major step in your child's life.
Keeping all of that in mind, here are some great pre-K graduation Instagram captions to use for your child on their big day.
Ready to bid preschool adieu? Say so with these great pre-K graduation Instagram captions.