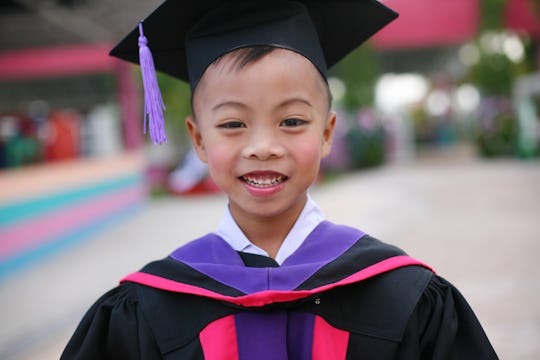 NATURE NDI/Shutterstock
11 Tips For Surviving Pre-K Graduation, Because It Will Wreck You
It's that time of the year, when barbecues, pool parties, and, of course, graduations, reign supreme. And, for a parent, nothing can beat the sheer emotional chaos that is a preschool graduation. Having been there myself, and on my way to a second (and last), I consider it my duty to let other parents know how to survive a preschool graduation, because it's not as straightforward as it seems.
If you've never been through a preschool graduation, you're probably wondering why this is even remotely a big deal. I mean, it's not like graduating from preschool is a major accomplishment. The kids aren't going off into the "real world" or anything. Hell, most aren't even going to attend a different school. Why would anyone be emotional about a preschool graduation, right?
Wrong! This is incredibly sentimental, people! This is the first time many of us parents really internalize the idea that our babies are only our babies for so long, and, at some point, we're going to have to give them over to the world to learn and grow and, one day, live a life that is basically completely separate from the one we have built for them. That's a lot. And it can sneak up on you, too. One minute you're rolling your eyes at the thought of your 4- or 5-year-old in some miniature graduation outfit, and the next minute you're ugly crying like you've just re-lived the series finale of Friends, wiping your snot on the poor, unsuspecting and fellow emotionally distraught parent sitting next to you.
I'm here for you, dear reader. Because you're about to embark on an overwhelming moment of pure emotional terrorism the likes of which you've never seen. Let me walk you through with some helpful hints. (Also I need y'all to hold my hand because my daughter's is coming up and I need to be sedated.)