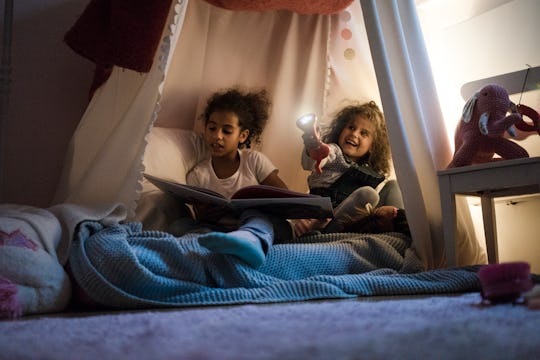 Westend61/Getty
27 Things To Do With Kids During A Blizzard That Don't Require Mittens
When the weather outside is frightful, these activities are delightful.
Following the recent pummeling of parts of the country by snowstorms, two more strong storm systems are expected to dump even more wintery precipitation across many of the same areas. Back-to-back storms mean you'll need things to do with kids during a blizzard that don't involve sending your child to play in the whiteout. After last week's snow days, your kids have had their fill of snowball fights anyway.
Blizzards are not for the faint of heart, especially when there are little ones around. Bad attitudes are totally contagious in cramped quarters, and you're going to need a whole lot of patience to deal with those tiny miracles of life. But the time together doesn't have to be a total disaster. There are tons of fun things to do with your little ones during a blizzard and you don't have to be miserable either. In fact, some of your favorite childhood games and memories can now be part of your kiddo's blizzard experience, especially if you all lose power. So break out those board games, find the hot cocoa, and pick your favorite from these 27 things to do with your kids during a blizzard. Do them all and maybe you can tire them out for a long winter's nap.
This article was originally published on