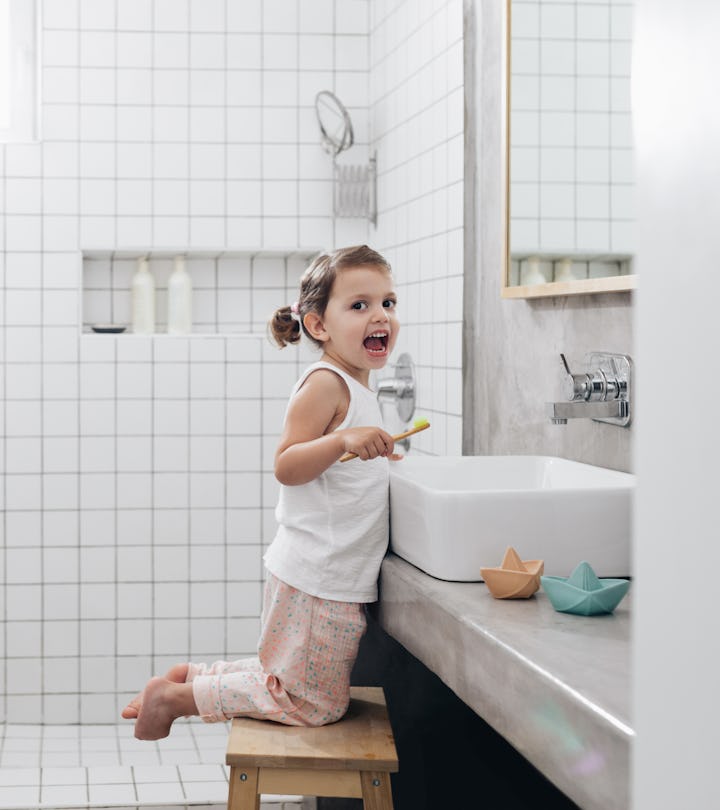 FreshSplash/E+/Getty Images
15 Products To Make Your Bathroom More Toddler-Friendly
Create a functional, cute, toddler-friendly space.
When it comes to interior design, bathroom products for toddlers don't always top the list of the most chic items. But, a space that's equal parts fun and functional is exactly what you need to survive the early years of parenthood — especially when potty training is involved. This list of toddler-friendly bathroom products is filled with storage solutions, safety supplies, and potty training essentials to make this area of your home work especially well for your little one.
Toddler bathroom products have a lot of crossover with baby bathroom necessities. Things like bath thermometers and faucet spout-covers may already be in use in your toddler's bathroom. But, if you've been bathing your baby in a baby tub (or the sink), or you're setting up a bathroom designated just for your kid and your baby registry didn't include some of these key elements, toddlerhood is a great time to invest in them.
Some toddler-specific bathroom items are meant to encourage independence as your little one grows. Step-stools, facet extenders for hand-washing, an automatic toothpaste dispenser, and potty seats are just a few examples of things to make a bathroom toddler-friendly that can help them be as self-sufficient as possible in the bathroom. These things definitely make your life easier, but they can also give your toddler a big confidence boost at the same time.
We may receive a portion of sales if you purchase a product through a link in this article.
As your little one grows, their needs change — and their bathroom needs are no exception. From potty-training accessories to storage solutions that encourage independence, these are the best things to make a bathroom a more toddler-friendly space.