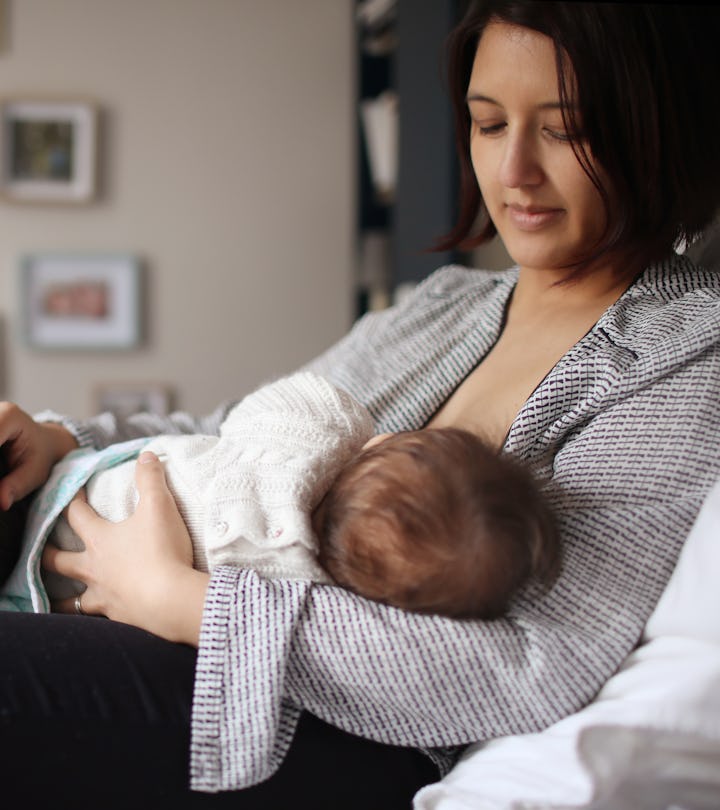 Catherine Delahaye/Stone/Getty Images
9 Things To Know If You're Feeling 'Touched Out'
It's so normal and it'll pass. Here's what you can do to feel better in the meantime.
Picture this: Your partner walks in at the end of the day and puts their arm around you, looking for a little physical affection after a day of running around. You instinctively recoil and move away from their touch as quickly as possible. If this sounds familiar, there's a good chance you're feeling something called being 'touched out.' As it turns out, this is a very common feeling for parents to experience, and there are several things to know about feeling touched out that will help you and your partner navigate this feeling.
Without knowing about this phenomenon, the feeling might be incredibly confusing, and you may find yourself wondering, "Why do I not like being touched?" After all, what does being touched out really mean? "Touched out is a term to describe a phenomenon reported by many mothers, especially moms of young children who are feeling overwhelmed as a result of constant physical contact with their children," Dr. Laura Venuto, a licensed psychologist who specializes in maternal mental health and parenting, tells Romper. "Mothers find they reach a point where they become averse to physical contact and want a time-out of sorts for their bodies."
In other words, you've spent so much time in physical contact with another human, providing affection and care, that the thought of any more touching makes you incredibly uncomfortable. "It's that feeling when your skin itches, or you feel like the room is closing in on you when someone touches you or you think about touching someone," licensed professional therapist Ashley Grubbs previously explained to Romper. It's something that new parents are especially prone to, as small children are all-consuming and need both your mental and physical attention.
If, for example, you spend most of your day in close contact with your kid (perhaps they like to lie on you when you're sitting on the couch, be in your arms while you do chores, or are still being breastfed), by the time your partner gets home, the last thing in the world you want is more physical touch. "Many moms report that their bodies become central to their family's needs, be it breastfeeding, rocking and carrying children, babywearing, and just the general physical demands of caregiving with children," Venuto says, "as well as if they are in a partnered relationship, their body becomes an integral component of fulfilling their partner's sexual needs."
Having an understanding of what being touched out is and why it happens can help you and your family cope with it. Here are just a few things to know about this all-too-common emotion.
Parenthood is challenging in many ways. And ultimately, feeling touched out is incredibly common, especially in the early stages of raising an infant or if you choose to breastfeed. That being said, knowing what the phenomenon is and how it might affect you will certainly help you navigate the feeling. And when things feel tough, just know that odds are, the feeling won't last.
Study referenced:
Yate Z. M. (2017). A Qualitative Study on Negative Emotions Triggered by Breastfeeding; Describing the Phenomenon of Breastfeeding/Nursing Aversion and Agitation in Breastfeeding Mothers. Iranian journal of nursing and midwifery research, 22(6), 449–454. https://doi.org/10.4103/ijnmr.IJNMR_235_16
Experts:
Dr. Laura Venuto, Psy.D., licensed psychologist
Ashley Grubbs, licensed professional therapist
Katie Lear, LCMHC, licensed therapist
Stephanie Swann, Ph.D., LCSW, owner of the Atlanta Mindfulness Institute
This article was originally published on