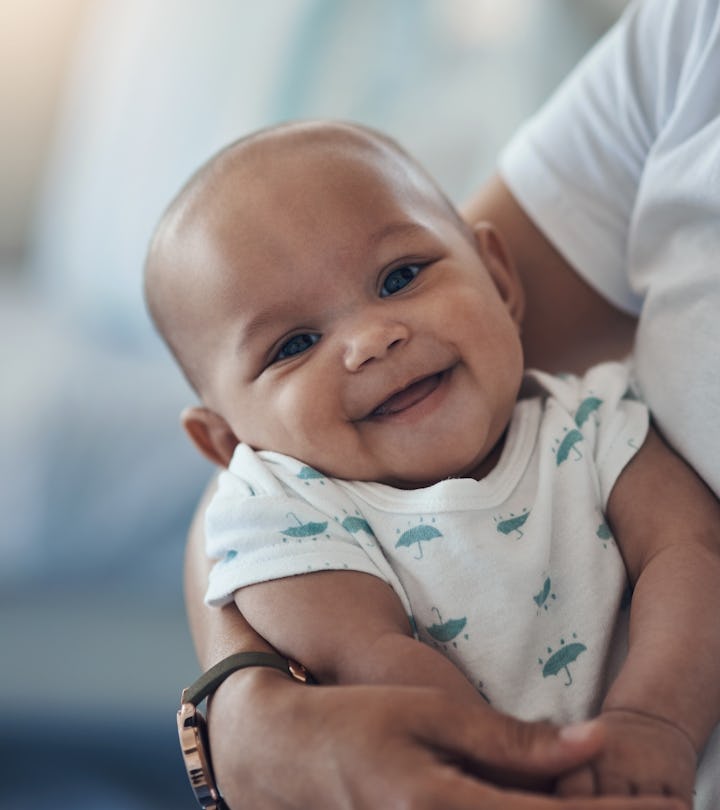 PeopleImages/E+/Getty Images
31 Baby Names That Mean Happy
These names are guaranteed to make you smile.
A tiny newborn babe wrapped up like a burrito isn't called a "bundle of joy" for no reason. Babies are inherently happy things — some might even call them a miracle or blessing. (Until they cry their precious little face off at 3 a.m. or have a nasty blow out, that is.) So, it makes sense that expecting parents would want to reach for a baby name that means happy when they have their own little ray of sunshine on the way.
The word happy has countless synonyms — jolly, thrilled, content, blissful, chipper, delighted, merry. But true happiness is a feeling that can mean a number of things to different people, depending on what exactly brings them joy. Maybe it's the sense of peace that comes from watching waves break on the shoreline, a sip of hot coffee on a cold morning, or simply having a place to call home. Whatever happiness means to you, these joyous monikers can give off those same good vibes.
One of my strongest desires for my kids as they grow is that they're happy. Life may not always go their way, but I hope that at the end of a hard day, they can look around and still feel at least a small sprig of happiness within themselves. If you feel the same, perhaps choosing a baby name that means happy for your newborn could provide a source of contentment for your own bundle of joy.
Giving your baby a name that means happy doesn't automatically equate to an eternal bliss, but it can't hurt to try, right? Hopefully this list can help inspire the perfect bright and shiny name for your little one.
This article was originally published on