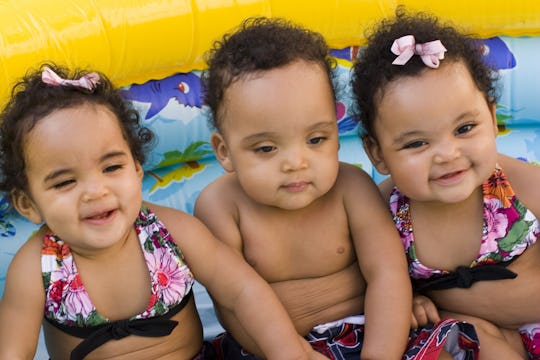 Shutterstock
33 Baby Names For Triplets, Because You Need All The Help You Can Get
Three times the help, to be exact.
What's in a name? Well, a lot, especially when you're trying to come up with one for your baby. Making a moniker that matches your child's as-yet-unknown personality is probably one of the hardest parts of becoming a parent. It's a difficult decision that brings into play so many factors, such as family traditions, cultural norms, and so much more. So what happens when you're having not one, but three babies? Take some inspiration from this list of baby names for triplets, because you're really going to have your hands full.
What you ultimately name your child matters more than you might think, not just to your baby, but to you as well. After all, it's the name you're going to say/scream dozens of times a day. You need to like the sound of your child's name, and it should easily roll off the tongue (an important factor when you're trying to get your toddler's attention). Plus, you want it to represent their little personality, and set them up for success in the future.
Now, multiply that process by three (we're not even counting middle names here), and the idea of naming your baby goes from being a sweet activity to an outright ordeal. Thing is, when you're coming up with triplet names, you probably want to have some sort of unifying theme. And while no one is suggesting that you go the Larry, Moe, Curly route to find baby names for your triplets, you do want to have something that connects your kiddos, whether it's by alliteration, meaning, or — yes, even TV shows.
There's no question that it's three times as hard to come up with baby names for triplets, but don't forget — three babies means three times the love, laughter, and snuggles, too. These names will set them off on the right foot.
This article was originally published on