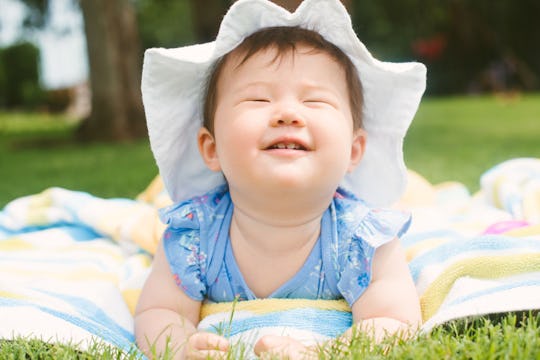 Lauren Naefe/Stocksy
If You're Having A June Baby, These Summery Names Are *So* Perfect
Although any month in which you give birth is magical, there's something extra joyous about a June baby. Maybe it's because it's the start of the summer, and you can walk around without having to put layers of clothing on your kiddo (just be sure to put a sunhat and stroll them in the shade so they don't overheat, though). Or perhaps it's because you've been spared having to endure labor and delivery in the dead heat of summer (we're eyeing you, August). For those reasons (and so many more), you might be inspired to give your June baby a summery name.
You can always name your baby June, which is adorable and sweetly old-fashioned at the same time. Plus, if someone asks what month your baby was born in, you can say, "June, of course!" Or you can think of what the month of June means to you — long days at the beach, pool, or lake, and time spent outdoors with family and friends — and give your child a name that symbolizes that special significance. You might also search to see which of your favorite celebs was born in June and give them that name.
If you're stumped, start off with these 30 June-inspired baby names, and see which one feels right for your summer lovin' baby.
There's a lot that goes into naming your newborn baby. But if your little one is expected to arrive in June, you can think of what the month means to you, and get creative with their name to represent a month that's literally bursting with love and light.
This article was originally published on