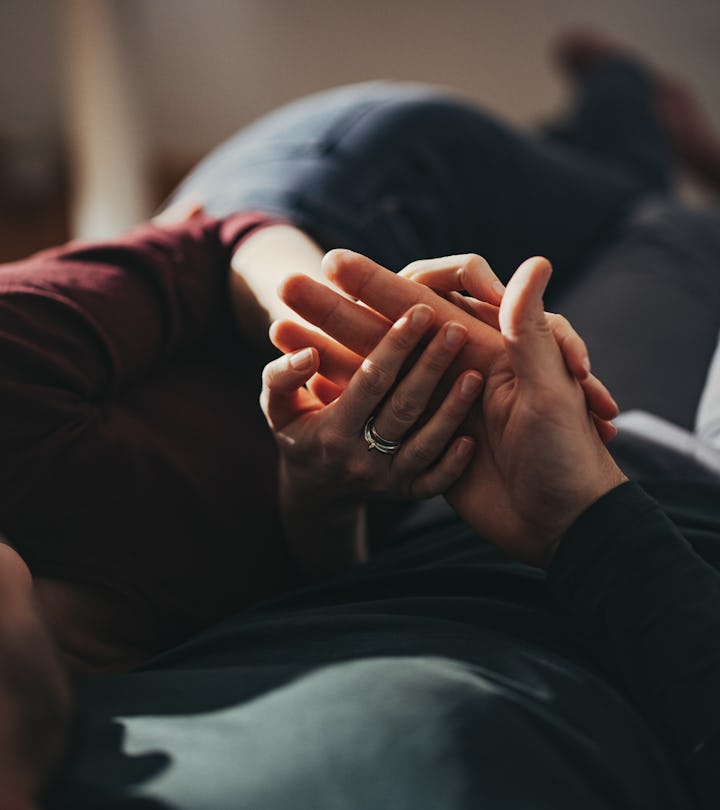 miniseries/E+/Getty Images
Can You Have Sex During Implantation? OB-GYNs Weigh In
It depends on who you ask.
When you're trying to conceive, you become more aware than ever of what phase of your menstrual cycle you're in — especially when you're ovulating. If you just ovulated and are hopefully in the earliest days of pregnancy, you might wonder: can you have sex during implantation? The answer depends on whether you're trying to get pregnant on your own, or with the help of fertility treatments like IVF or intrauterine insemination (IUI).
What is implantation?
Implantation takes place when a fertilized egg travels into the uterus (or is placed there, if you're doing fertility treatments) and burrows into the uterine lining, says Dr. Marilyn Fudge, M.D., board-certified OB-GYN at Bayfront Health. Implantation normally happens some time between when you ovulate and your first missed period (which is when an at-home pregnancy test could first reliably detect a pregnancy). This chunk of time is usually called the two-week wait, even though it feels like forever when you're eagerly awaiting a positive test.
"Implantation occurs anywhere from five to seven days after ovulation, but studies can have shown that that can vary from individual to individual," says Dr. Jenna B. Friedenthal, M.D., board-certified OB-GYN and reproductive endocrinology and infertility specialist at Mount Sinai.
When you think about something as tiny as an embryo burrowing into your uterine lining, it's no surprise you might be worried you'll shake it loose. So, does sex affect implantation?
Can you have sex during implantation?
It's complicated — some experts give you the green light, while others say you might as well wait. The best thing you can do is ask your OB-GYN or midwife about whether sex is safe for you, considering your personal medical history and risks.
When is it safe to have sex during implantation?
If you're trying to get pregnant the old-fashioned way, being intimate during the two-week wait shouldn't be an issue.
"In unassisted attempts at pregnancy — meaning a couple that's just trying to get pregnant on their own without IVF or an embryo transfer — you can absolutely have sex during implantation. That's not going to change your odds of becoming pregnant or not," Friedenthal says.
Who shouldn't have sex during implantation?
Of course, you should always get your own doctor's opinion on whether having sex is risky for you. These experts say you should probably abstain during implantation if you:
Have been trying to conceive for awhile but haven't succeeded. "In those situations where the patients have had infertility, I think it is better to err on the side of caution," says Fudge. "There are some studies that say having intercourse at the time of implantation can lower the chances of being pregnant. In my reading about this, one study did say that if you have intercourse for two or more days during that implantation window, it can decrease your odds of getting pregnant by about 40%."
Are undergoing IVF or an embryo transfer. Many fertility specialists advise their patients not to have sex during certain phases of treatment, like after an embryo transfer. Embryos used during IVF undergo genetic testing to ensure they're viable and not at increased risk of being miscarried, according to Johns Hopkins Medicine. If you've had an embryo transfer completed, but have sex before you get a positive pregnancy test, your doctor can't tell if the pregnancy is from the embryo transfer (which those genetic testing results apply to) or not, says Friedenthal. So, it'll give you more peace of mind just to wait.
Are experiencing vaginal bleeding. Friedenthal says that if you're pregnant or think you might be pregnant, and you notice bleeding or spotting after having intercourse, then it's a good idea to call your doctor and get checked out. Bleeding in early pregnancy is extremely common, she says, but it's best to confirm everything is normal before resuming your sex life.
Ultimately, whether or not to have sex during your implantation window is up to you and your provider, says Dr. Monique De Four Jones, M.D., MBA, OB-GYN and associate chief of Labor and Delivery at Long Island Jewish Medical Center, and associate professor of Obstetrics and Gynecology at the Zucker School of Medicine.
"It's a conversation with the doctor," she says. "If they have no issues, they're not having any vaginal bleeding, then fine, no problem. If they ever have any signs of vaginal bleeding, or ]later in pregnancy] have cervical shortening or known placenta previa, they should not be having intercourse. Everybody is very individual; they really need to have an ongoing discussion with their provider. Something may be fine today and we might need to pivot tomorrow."
So, while it's not a simple yes or no question, it sounds like having sex during implantation is generally OK as long as you have no other history of pregnancy complications. Besides, the two-week wait can feel like forever. Trying something new in the bedroom might help pass the time.
Experts:
Dr. Marilyn Fudge, M.D., board-certified OB-GYN at Bayfront Health
Dr. Jenna B. Friedenthal, M.D., board-certified OB-GYN and reproductive endocrinology and infertility specialist, and assistant clinical professor in the Raquel and Jaime Gilinski Department of Obstetrics, Gynecology and Reproductive Science at the Icahn School of Medicine at Mount Sinai
Dr. Monique De Four Jones, M.D., MBA, OB-GYN and associate chief of Labor and Delivery at Long Island Jewish Medical Center, and associate professor of Obstetrics and Gynecology at the Zucker School of Medicine