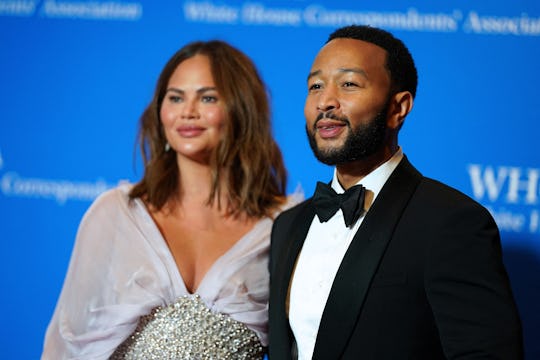 STEFANI REYNOLDS/AFP/Getty Images
Chrissy Teigen Posted The Most Realistic Family Vacation Photo With All 4 Of Her Kids
They're currently on their first vacation together as a family of six.
Chrissy Teigen is really living out her "dream" summer as a mom of four. She and her husband John Legend are currently on vacation with all four of their kids, and the smiles on everyone's faces in photos the proud mom shared really say it all. Well, apart from baby Wren. He didn't look terribly impressed in the family photo, but such is life with four kids.
The Cravings cookbook author took to Instagram to share some sweet moments of her vacation with Legend and their children, and for the most part the family looked like they were having the time of their lives. Especially 7-year-old daughter Luna, who was working on putting together some LEGOs with her mom. Perhaps less enthusiastic was Teigen's 5-year-old son Miles; he was pictured in a sweet family photo holding his baby brother Wren, who didn't look ecstatic to be held by his older brother, while 7-month-old Esti was clamoring to get out of her dad's arms.
Regardless of any fussing or fidgeting, Teigen glowed with contentment in her family photo, which she captioned, "legos on vacation with my giant family! a dream."
Teigen also shared photos of each of her kids on their own, including a short video of baby boy Wren, who she welcomed via surrogate in June, cuddled against her chest and simply breathing. His legendary mane of hair on full display as per usual.
Legend also took to Instagram to share a series of photos from their "first vacation as a family of six," which he went on to note was going "so far, so great." He shared photos of Teigen in the pool with their two daughters, and a cute photo of him with their two sons. He also shared photos of Esti looking ecstatic to be poolside with her brother and sister. Truly everyone was loving this holiday.
While the busy mom didn't share where she and the family were spending their vacation, her joy in being there with her "giant family" was genuinely touching. Perhaps especially since her millions of followers know just how difficult their journey has been. She and Legend suffered a pregnancy loss with the couple's son Jack in 2020, and she went on to go through IVF treatments to welcome daughter Esti this past January. Mere months later, she and Legend welcomed son Wren via surrogate. At the time, Teigen admitted that "for as long as I can remember, I've always wanted four children." And now that she has those four children, she's soaking up every moment of joy with them.