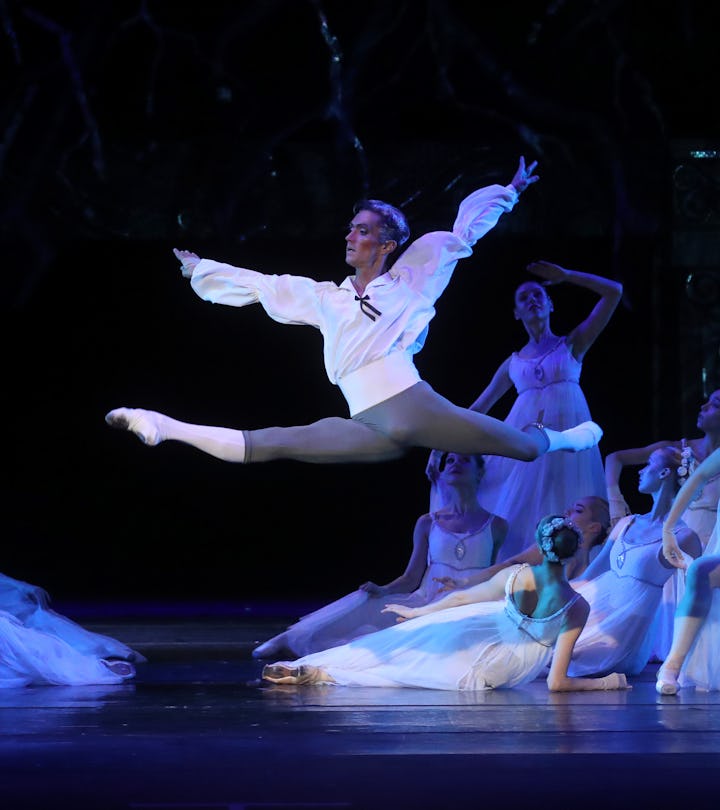 Vyacheslav Prokofyev/TASS/Getty Images
All The Ways To Watch The Nutcracker At Home This Holiday Season
Yes, you can experience the magic of The Nutcracker in your PJs!
Every holiday season, thousands of families are delighted by the magic and wonder of The Nutcracker. But while local in-person performances have long been the traditional way many took in The Nutcracker, the ongoing pandemic has brought families more options for keeping this classic holiday tradition alive. While virtual performances of The Nutcracker aren't as plentiful this year, there are a few fun options that will enable you to experience the magic of The Nutcracker without leaving your house.
Keep To The Classic With The New York City Ballet
The New York City Ballet has performed George Balanchine's The Nutcracker each holiday season for more than 65 years. And while live in-person performances of the holiday classic have returned to the David H. Koch Theater at Lincoln Center this year, families who can't get to the theater in person don't have to be left out of the festive fun that is The Nutcracker.
The New York City Ballet will offer on-demand streaming of a virtual performance of George Balanchine's The Nutcracker through Marquee TV. While not performed live, this pre-recorded performance from 2019 features all the same wonderful costumes and state sets seen in the ballet troupe's stage performances.
Families in the United States can purchase a 48-hour rental of the performance on Marquee TV from Nov. 26 to Jan. 2, 2022, for just $20. Customers will be able to start, stop, and pause the performance at their convenience or even watch it again within the 48-hour rental window. You can learn more about The New York City Ballet's 2019 Nutcracker production through the ballet company's website while the actual production can be rented through Marquee TV here.
Opt For A Jazz-Influenced Twist On This Christmas Classic
If your family prefers their Nutcracker with a more modern twist, try The Dallas Black Dance Academy's performance of Espresso Nutcracker. Featuring music from American composer, pianist, and orchestra leader Duke Ellington's "Nutcracker Suite" and an element of African dance, Espresso Nutcracker infuses a longstanding holiday classic with not just jazz, but soul. Narration has also been added to Espresso Nutcracker by Dallas Black Dance Academy Director Katricia Eaglin, in a move that helps to unlock the story for younger children.
The Dallas Black Dance Academy's Espresso Nutcracker performance will be available to stream live on Dec. 11 at 7 p.m. CDT. The performance will then be available to watch on-demand from Dec. 11 at 9 p.m. through midnight on Dec. 13. Tickets to both the live-stream and on-demand options can be purchased through EventBrite and are priced at $55 per household.
Watch On A Streaming Service You Already Have
Of course, it's also possible to find and watch a version of The Nutcracker on a number of different streaming services. Amazon Prime Video subscribers, for example, can watch Nutcracker: The Motion Picture, a film adaptation produced and choreographed by the Pacific Northwest Ballet. Also available to rent or buy through Amazon Prime Video is the TV adaptation of Mikhail Baryshnikov's Nutcracker production, which features Gelsey Kirkland and the American Ballet Theatre.
Kids who love dance may enjoy getting to see a peek at how productions come together with Netflix's Dance Dreams: Hot Chocolate Nutcracker, which centers around dancer and choreographer Debbie Allen's career and follows her and her dance students as they prepare for their annual production of Hot Chocolate Nutcracker. Or fall into a fantasy-infused retelling of The Nutcracker starring Morgan Freeman as Drosselmeyer, Helen Mirren as Mother Ginger, Misty Copeland as the Ballerina, and Keira Knightly as the Sugar Plum Fairy with The Nutcracker and the Four Realms on Disney+.
No matter which version you watch, The Nutcracker can be a part of every family's holiday traditions, pandemic or not.
This article was originally published on