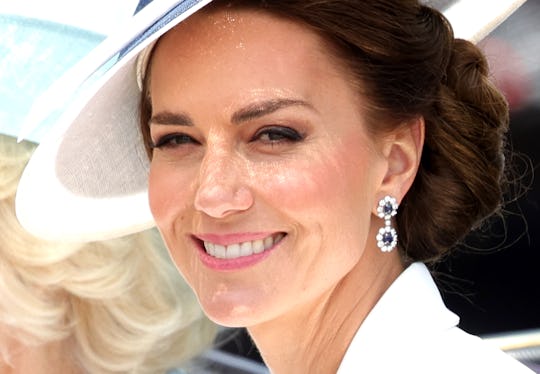 Chris Jackson/Chris Jackson Collection/Getty Images
How Kate Middleton's Platinum Jubilee Jewelry Honors Princess Diana & The Queen
The Duchess of Cambridge sparkled in her late mother-in-law's earrings.
With a celebration name like the Platinum Jubilee, it's no surprise that a glittering distraction of this epic celebration is not even the royals, but their amazing jewelry! Taking a note from the matriarchy playbook of Queen Elizabeth, who wore beautiful brooches as a touching tribute to her father, the Duchess of Cambridge also wore jewels that held a meaningful connection to another legendary royal. In a classy move that honored both tradition and family, Kate Middletown accessorized her Trooping the Colour look with stunning sapphire earrings from Princess Diana's jewelry collection that Queen Elizabeth had gifted to the late royal.
Middleton has solidified her status an international style icon, so every single thing she wears, from the fascinator on her head to the socks on her toes, is documented and scrutinized, and often immediately out of stock in stores. One thing that makes the Duchess of Cambridge so refreshingly relatable as a fashionista is that she has absolutely no qualms about recycling her looks. And while Middleton's Platinum Jubilee outfit, a white chic Alexander McQueen blazer dress, was a custom look this time, her jewelry was once worn by another admired and stylish royal.
This isn't the first time the Duchess of Cambridge has honored her late mother-in-law by wearing her incredible jewelry. Middleton's 12-carat sapphire engagement ring surrounded by 14 diamonds also belonged to Princess Diana.
Chris Jackson/Chris Jackson Collection/Getty Images
Tim Graham/Tim Graham Photo Library/Getty Images
But of course Middleton has followed the lead of her famous mother-in-law in ways that are far more significant that anything she might wear around your neck. Both women are revered for being deeply charitable, kind, and down-to-earth. The Duchess of Cambridge is not above being matchy-matchy with her kiddos, and she won't even mind if you skip the fancy titles and just call her Kate! Perhaps the thing that both women most share in common is how committed they are as mothers. (Middleton has also been snapped in a beautiful necklace that bears her children's initials and symbolizes her love for her kiddos too.)
And if Middleton's sparkling tribute to Princess Diana wasn't meaningful enough, it just so happens that the legacy of those sapphires is a nod to the queen, too. As it turns out, these very same earrings were a wedding gift from Queen Elizabeth to Princess Diana.
How beautiful to consider that Princess Charlotte might also wear them some day.