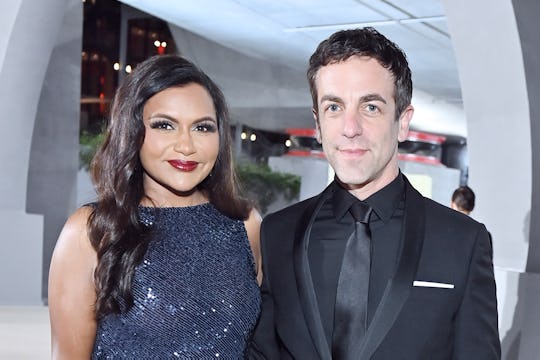 Stefanie Keenan/Getty Images Entertainment/Getty Images
Mindy Kaling & B.J. Novak's Friendship Is One For The History Books
If there was a complicated friendship award, they would win.
Are they a couple? Are they best friends? Family? Yes and no to all of the above for B.J. Novak and Mindy Kaling. Their friendship, if we're going to use one word to try to encapsulate Novak and Kaling's relationship, has become a cornerstone for both their lives. And it continues to evolve. Here's a look at how their friendship started way back in the early '00s and where they are today.
2004: They met writing for The Office and started dating later that year.
Kaling and Novak were both hired on to write for the American version of The Office in 2004 when they were both just 24 years old. They were also performing as Ryan Howard and Kelly Kapoor on the series, which saw life and art imitate each other over the next several years.
Much like Kelly and Ryan, Kaling and Novak started dating later in 2004. Kinda sorta. "No one, including us, ever really knew, 'Is this dating? Is this not dating?' We were never really dating, we were never really not dating," Novak told Vulture in 2012. "We didn't know. No one knew. All you'd know for sure was that you'd always find one of us next to the other, even if we weren't getting along."
2007: The big break-up.
While we know that the couple broke up in 2007, as with most break-ups, stories may vary. "He broke up with me," Kaling told Howard Stern in 2014. "It was years and years ago that that break-up happened. I was so sad, not angry, sad."
For his part, Novak was philosophical about it. "In real life, I think we just essentially grew up and it became more of a transition," he told Vulture in 2012.
2012: They both leave The Office but not each other.
Kaling left The Office after Season 8 while Novak followed part way through Season 9, but they continued to support each other in a big way. Kaling joined Novak at the premiere for Inglourious Basterds, which he starred in alongside Brad Pitt, And he went on to guest star on her series The Mindy Project in an episode they co-wrote, Harry & Sally, about two friends who are in love and don't realize it. Sound familiar?
2013: Potential dates are "skeptical" of their friendship.
By 2013, Kaling and Novak had not been romantically involved for six years. And yet their friendship was so strong that potential partners found themselves feeling more than a little intimidated.
"We are pretty inseparable best friends with a lot of chemistry ourselves, and we're not dating," Novak told Entertainment Weekly in 2013. "Whenever we date anyone else, I think there's a period where the person is very skeptical of our friendship."
2013: She called him her "soup snake."
To celebrate Novak's birthday that same year, Kaling tweeted a photo of him and wrote, "Happy birthday to my soup snake." It's a reference to an episode of The Office when Michael Scott mistook the words "soul mate" for "soup snake," so I guess they're soul mates.
2015: Kaling calls their relationship "weird as hell."
"I will freely admit: My relationship with B.J. Novak is weird as hell," Kaling told InStyle in 2015. "He is not my boyfriend, but he is not my best friend. I guess you could describe our relationship as a 'romantically charged camaraderie with loud arguments,' but I don't think Facebook would accept this as a new status."
2017: Novak becomes part of Kaling's family when her daughter was born.
Kaling gave birth to daughter Katherine in 2017, and made Novak her godfather. A role he takes so seriously he's even taken to dressing as Santa Claus to make her happy. "Her godfather is B.J. Novak, and he is going to show up and go to our living room, where the tree is, in a Santa costume," she said in 2020. "Just so you know, we're Hindu and B.J. is Jewish, so this is, like, cultural appropriation on our part." When she welcomed son Spencer in 2020, Novak became his godfather as well.
2020: Locking down together.
Kaling and Novak appeared to be locked down together during the Covid-19 pandemic, with the proud godfather taking on the role as photographer and genuine member of the family. "It isn't the thing that people sometimes think it is," Kaling said in a 2019 interview on CBS Sunday Morning. "But he's really part of my family now, which is great. Even though that's less of a sexy characterization of our relationship, I think it's a deeper and a closer one."
2022: Still guessing after all these years.
Novak and Kaling are self-aware enough to realize how much their friendship fascinates people. So much so that they joked about it while presenting the award for Best Writing in a Limited Series at the Emmys. They joked that writing eight episodes is basically nothing. "We came up doing network sitcoms — 22 episodes a year," Kaling joked, adding, "No time for social life. You had no choice but to form insanely complicated relationships with your costar."
Insanely complicated perhaps. But life-affirming and genuinely beautiful too.