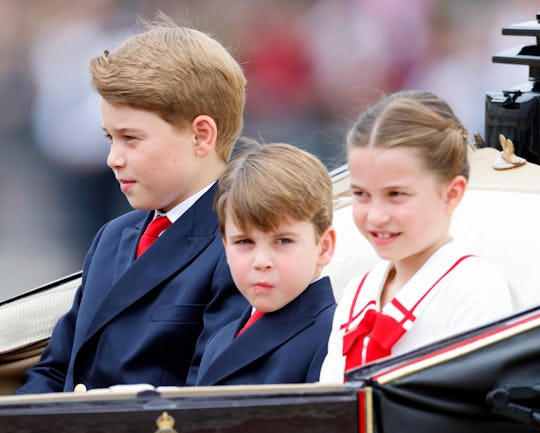 Max Mumby/Indigo/Getty Images Entertainment/Getty Images
Why Prince George, Princess Charlotte, & Prince Louis Go To School 6 Days A Week
The intense schedule is apparently "very common in their world."
It's easy enough to dismiss the lives of the young royals as privileged and pampered and, well, posh. And to be fair, much of their lives are pretty incredible. They have things like palaces and bodyguards and a grandfather called King Charles. But it's not all easy and relaxing for the Wales children. Especially not when it comes to their new school schedule. Most of us probably spend less time at work than they do at school.
Last September, Kate Middleton and Prince William enrolled all three of their children, 10-year-old Prince George, 8-year-old Princess Charlotte, and 5-year-old Prince Louis, at Lambrook School, which is naturally seen as one of the best schools in the United Kingdom. In keeping with their parents' love of all things outdoors and woodsy, the children are treated to pretty incredible facilities at Lambrook School including a pool, a golf course, a theater, and an arts studio spread out across a whopping 52 acres on the beautiful Berkshire countryside. Which they get to enjoy six days per week. That's right, the royal children, along with the rest of the Lambrook students, reportedly attend classes six out of seven days per week. They get exactly one day off, Sundays, and that's it.
Melanie Sanderson, managing editor of The Good Schools Guide, described Lambrook School as "intense" on Hello!'s A Right Royal Podcast, explaining that the school has students attending classes six days per week, but added that "it's very common in their world."
"The schools they're going to move on to, so if Prince George goes on to Eton or Marlborough or any of the other big boarding schools, Saturday school is very much a part of a the normal school week," Sanderson explained. "My feeling is that the reason for that is because there's so much sport and activity during the week. So at Lambrook, they'll be doing sport maybe four afternoons a week, which in a normal school you know you're lucky to get a couple of hours. ... So they've got to get those academic lessons in somewhere and I think Saturday mornings is very much when they catch up."
While Sanderson said a six-day school week is "very much part of the overall boarding school experience," it can be tough on younger kids. "For younger, little ones, for the 6- and 7-year-olds, it's a really long week," she said on the podcast.
Considering Prince Louis is just 5 years old, that would be a long week. On the flip side of that coin, his mother admitted last March that even after a long day at school, her youngest son comes home and runs out to the garden because he "needs to get my energy out." So perhaps a six-day school week works best for him.
"We know the royals love being outdoors," Sanderson added on the podcast. "They love the countryside and it's a real muddy-knees type of school. They've got acres and acres of pitches and fields to explore and they're allowed free rein in their break times."
As for his older siblings, they are both caught up in their extracurricular activities, with Princess Charlotte playing rugby, tennis, and football. So maybe we've got it wrong. Maybe Lambrook keeps these children at school to help them all burn off lots of energy.