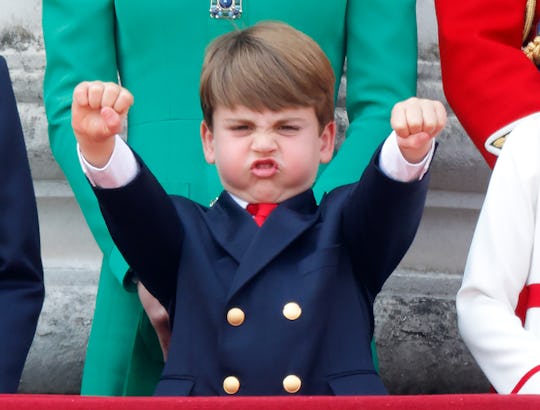 Max Mumby/Indigo/Getty Images Entertainment/Getty Images
Prince Louis Races Around The Palace In A Toy Car
Being the youngest son of the future King of England comes with certain benefits. There's the money, the status, the private schools, and of course living in a palace. A palace where, if you are 5-year-old Prince Louis, you drive yourself around in a toy car and no one stops you. Picture it, little Prince Louis racing along pathways in a toy car, the same pathways his regal great-grandmother Queen Elizabeth once walked her delightful corgis or rode her horses. He really is bringing the royal family into the 21st century, whether they like it or not.
Royal sources recently spoke to The Sun about Kate Middleton and Prince William's youngest son Prince Louis and his preferred mode of transportation on the grounds of Windsor Castle. "He can use the paths that are running through Frogmore Gardens like a racetrack and it is completely private," the unnamed sources told the news outlet, noting that the young prince had 100 acres of private land he could traverse using his toy car. "It's quiet and away from the public so ideal for Louis."
Frogmore Cottage was home to Prince Harry and Meghan Markle before they stepped away from their roles as senior royals, but they continue to use the home as a base during their infrequent visits to the United Kingdom. Perhaps Prince Louis would be willing to give driving lessons to his Sussex cousins, 4-year-old Archie and 2-year-old Lilibet, when next they visit.
While Prince Louis is able to have the run of the grounds under constant supervision, he will have to be mindful of others using the trails. He would hate to accidentally run down his great-uncle Prince Andrew and Sarah Ferguson, who continue to live on the Windsor grounds at Royal Lodge, as they continue to walk the trails with the Queen's corgis. His dad Prince William also uses the quiet roads to travel around the royal property, presumably in a full-sized vehicle.
The youngest of Kate Middleton's three children, including 8-year-old Princess Charlotte (who gets "exhausted" from keeping an eye on her little brother at royal functions) and 10-year-old Prince George, has long been known as something of a speed demon. He admitted during a tour of some cool fighter jets in July that he plans to be a fighter pilot when he grows up, and Middleton was once seen chasing him down on his scooter at Buckingham Palace.
He has upgraded, it seems, from scooter to car. Next on the list? Fighter jets.