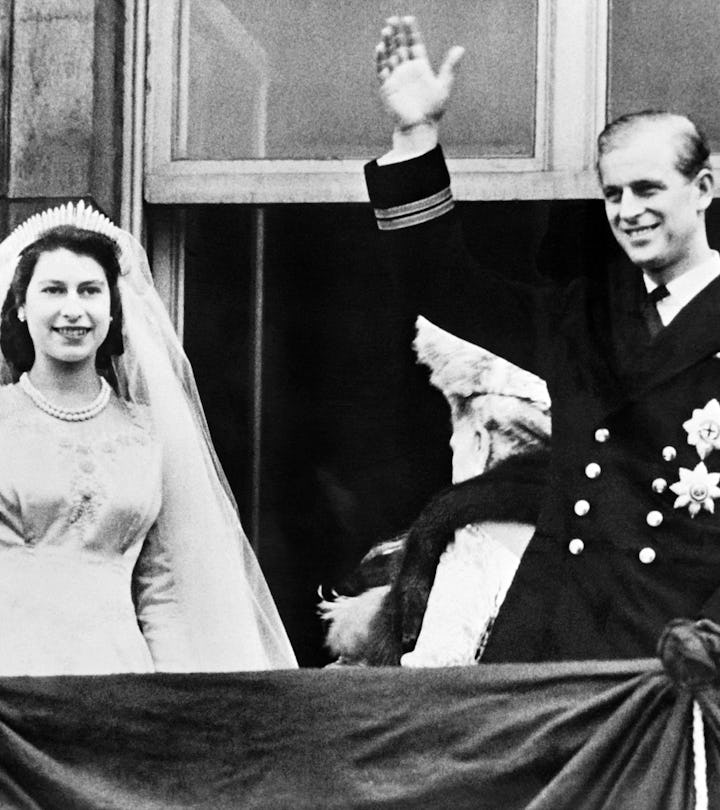 -/AFP/Getty Images
Queen Elizabeth II's Most Romantic Quotes About Prince Philip
She loved and respected him dearly.
Queen Elizabeth and Prince Philip were married for 73 years. That's the longest marriage in British royal history. In fact, they'd been married for five years before Elizabeth ascended the throne in 1952. Talk about a partnership. For seven decades Philip, the Duke of Edinburgh, stayed in the shadow of arguably the most recognizable woman in the world to help support her through highs and many very public lows. But by all accounts they were quite happy together. We know this through Queen Elizabeth's most romantic quotes about Prince Philip.
Not one to be overly gushy, the queen kept most of her comments, it would seem, to herself, but when she did give Philip public praise, it was honest and authentic and enough to recognize that theirs was a true love — a public romance that ended with Philip's passing in April 2021. That's an incredible thing considering they met when she was 13 and he was 18, according to NBC. The wedding, in 1947 had all the pomp you might imagine: "2,000 guests at Westminster Abbey, a reception at Buckingham Palace and a 9-foot-tall wedding cake." But as married couples will tell you, it takes more than a great party to maintain wedding vows. Here's an inside look at their decades-long love.
As far as relationships go, the enduring partnership of Queen Elizabeth and Prince Philip is truly an historic marvel.