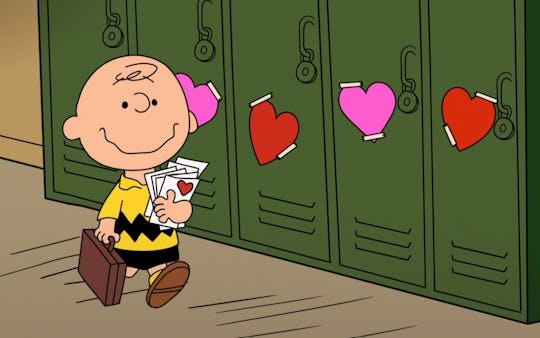 Apple TV+
How To Watch Be My Valentine, Charlie Brown In 2023
It's the Peanuts romance we love to watch over and over again!
What would the season of love be without its fan-favorite Peanuts special? Be My Valentine, Charlie Brown, the Charles M. Schulz classic that first premiered in 1975, is all about those butterflies in our stomachs and that fluttering feeling in our hearts. Thankfully, watching Be My Valentine, Charlie Brown in 2023 is easy to do. Here's everything you need to know to watch Be My Valentine, Charlie Brown this Valentine's Day.
What is Be My Valentine, Charlie Brown about?
In the festive special, Charlie Brown brings a suitcase to school to fill up with his valentines. But at the Valentine's Day party, it turns out Charlie is the only one who did not get anything except for one candy heart that says "FORGET IT, KID!" But the next day, he ends up getting a belated Valentine's Day card from Violet, the little red-haired girl he was trying to win over. Meanwhile, Linus buys a present for his teacher Miss Othmar, which Lucy mistakes for her own. It's a classic.
How can you watch Be My Valentine, Charlie Brown in 2023?
As long as you have a subscription to Apple TV+, you can watch Be My Valentine, Charlie Brown in 2023 as many times as you'd like. While subscriptions start at $6.99 a month, you can try out the streaming platform for free with a 7-day trial.
Apple TV+ became the official home of the Peanuts universe after the 2020 partnership between Peanuts Worldwide, Lee Mendelson Film Productions, and Apple. Other Peanuts specials on the platform include Who Are You Charlie Brown?, which was released in 2021, as well as other holiday classics.
You can also purchase a copy of Be My Valentine, Charlie Brown on DVD.
Do you still use your DVD player? Be My Valentine, Charlie Brown is available for purchase on DVD at Walmart and Amazon for less than $10.
Don't forget about another Valentine's Day Peanuts special, A Charlie Brown Valentine.
When you're done with Be My Valentine, Charlie Brown, go ahead and spill the peanuts on A Charlie Brown Valentine. The 2002 holiday special once again showcases Charlie Brown's attempts to win over the heart of Violet and dance with Peppermint Patty. DVD copies of A Charlie Brown Valentine can be purchased on Amazon or at Walmart.
Your Valentine's Day entertainment doesn't have to stop there. Beyond these Peanut classics, a bunch of children's TV shows have aired great Valentine's Day episodes over the years. And if you need to extend your little one's screentime, these kid-friendly Valentine's Day movies have your back.