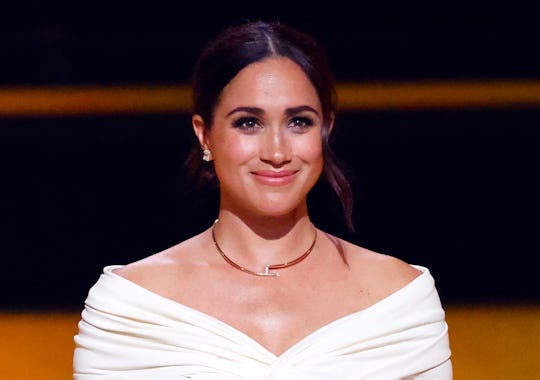 Max Mumby/Indigo/Getty Images Entertainment/Getty Images
Here's Why Meghan Markle's Netflix Children's Show Pearl Was Reportedly Cancelled
Executives figured kids wouldn't care about her being a duchess.
When Meghan Markle and Prince Harry moved to California after stepping back from their senior royal roles, they signed lucrative deals as private citizens with both Netflix and Spotify. Very lucrative deals, particularly with streaming giant Netflix, to the tune of more than $100 million. Since they initially signed those deals, the couple put out a documentary series called Harry & Meghan for Netflix, which turned out to be the "biggest documentary debut ever," according to a press release. But Meghan Markle's children's animated series Pearl, about a 12-year-old girl inspired by women in history, was axed before it ever got off the ground. And a Netflix executive claims in an interview with the Wall Street Journal that it was cancelled because kids would not be interested.
Back in 2022, Deadline announced that Netflix had cancelled Pearl while it was still in its development stage. The series, which the Duchess of Sussex co-created with Elton John's husband David Furnish, was meant to follow a 12-year-old girl "on a journey of self-discovery as she tries to overcome life's daily challenges," Meghan told The Hollywood Reporter in 2021. The series was cancelled along with several other animated series in production at the time at Netflix, and no reason was given beyond a wave of cutbacks.
But now the Wall Street Journal reports that Netflix executives had decided that "few children would care if the show they were watching had been produced by a duchess," per the news outlet. Which seems pretty fair since kids don't seem to care a whole lot about royalty unless, of course, we're talking about Disney royalty.
While the couple recently had their partnership with Spotify cancelled after producing just one season of Meghan's podcast Archetypes, that does not appear to be what is happening with Netflix. A spokesperson refuted rumors that the streaming giant was planning on cutting ties with Archewell, the couple's charitable organization, telling Entertainment Tonight this week, "We value our partnership with Archewell Productions. Harry & Meghan was Netflix's biggest documentary debut ever, and we'll continue to work together on a number of projects, including the upcoming documentary series Heart of Invictus."
Whether or not Meghan and Harry plan to create another children's series for their partnership with Netflix is still up in the air, but we'll certainly be checking it out if it comes to pass.