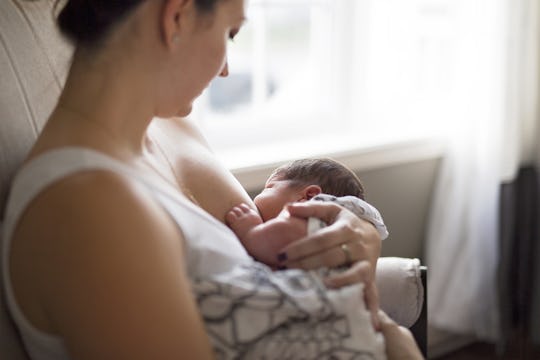 Fotolia
Places Every Breastfeeding Mom Should Try Nursing, Because #NormalizeBreastfeeding
If you choose to and are able to nurse, you'll probably end up facing a "breastfeeding in public" situation. For many new moms, that "situation" is absolutely terrifying. Stories of women being shamed, harassed, and called out via social media are rampant, and only fuel the anxiety women feel when it's time to feed their baby outside their home. However, in order to fight that stigma, I think there are places every breastfeeding mom should try nursing, at least once and (of course) if she feels comfortable and safe doing so.
The first few times I nursed my son in public, I was a mixture of anxious, empowered, and rebellious. I just knew someone would approach me and say something awful (they didn't), but I also felt like a damn warrior or breastfeeding in public anyway and regardless of my initial trepidation. I mean, here I was, in public with my boob out, just sustaining another human life with my body like it's no big deal. It was an experience I'll never forget. As I gained confidence, I was able to nurse comfortably, nurse in more places, and lost almost all my fear and anxiety. Now, when nursing my second child, who just-so-happens to be a toddler, I'll nurse pretty much anywhere. #NurseThereDontCare
I know that some breastfeeding moms aren't entirely comfortable (or even want to) try breastfeeding in public, so in no way is the following list the "end all be all" of publicly feeding your child. You do you, as always. However, if you do want to gain some confidence in openly and unapologetically breastfeeding your baby, I've created the list in order from best places for new moms, to places that take a bit more "nerve." The point is; be brave, feed your baby, and let's all, collectively, #NormalizeBreastfeeding. You got this, mama.