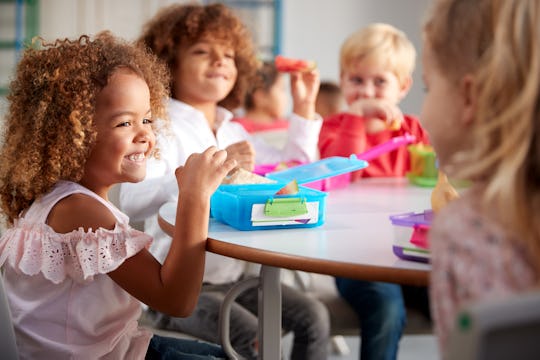 Shutterstock
11 Cute Lunch Boxes With Water Bottle Holders
Keep your kid fueled and hydrated in style.
When you have a baby, a simple trip to the park involves a whole diaper bag filled with gear: Bottles, wipes, diapers, water, snacks, changing pad, and toys. But unless you yourself misplaces it, it's likely to all come home with you at the end of the day. That all changes when you have a bigger kid who's heading back to school, going off into the world by themselves. Once they start school, it can be a real gamble whether the backpack, lunch box, sweatshirt, or expensive, insulated water bottle that you just splurged on actually comes back home with them. But these cute lunch boxes with water bottle holders can help your kid keep their gear together. And if you do have to go digging through the lost-and-found, at least their food and drink will all be in one place.
Getting kids excited for back-to-school can include more than just buying supplies: It might include reading them a back-to-school poem and talking about their hopes and fears for the year. But it also includes getting the right gear, from a smell-proof backpack (more necessary than you might hope) and everything they need to have a good lunch that will power them through the day. One of these lunch boxes with a water bottle holder, and a good water bottle that fits into the pocket just-so can help them eat and drink enough to stay focused. Whether they're into dinosaurs or sharks, unicorns or mermaids, there's a product that is perfect for your school-aged kid to make sure they don't lose their lunch (literally), or their water bottle.
Though going into a new school year is never easy, any of these fun, cute lunch boxes with water bottle holders will help your kid get a little more excited about the transition.