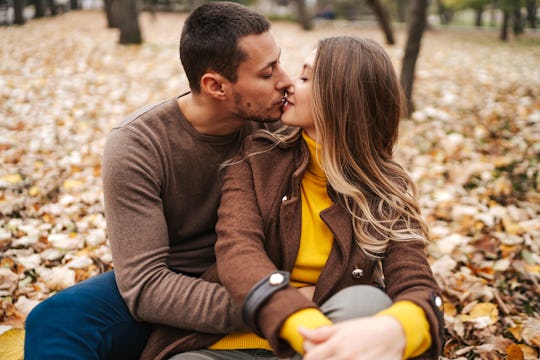 bojanstory/E+/Getty Images
7 Best Kissing Positions That Maximize Your Makeout Session
Ready to step up your game?
Pick up any magazine or peruse any website and you're sure to find tons of articles referencing the best positions for orgasms or the hottest positions for getting it on. But everyone forgets to mention kissing and the best kissing positions for you and your SO.
I am a huge believer in always kissing your partner, so maybe I'm biased, but I often find kissing to be even more important than sex. They're both incredible in their own ways, but there's something so hot about a good makeout session that I will always tout its benefits in a relationship. And finding the perfect kissing position just makes it all better. Of course any kiss is good, but certain positions put your bodies together in a way that just makes everything hotter. Some can even completely turn you on without getting to the point of sex. A good kissing position allows you to touch each other, go slow or speed it up, and connect with your partner. And don't worry — it doesn't requires some Hollywood movement out in the rain. These seven kissing positions will up your tongue game to full on foreplay and remind you why you love to kiss your partner.