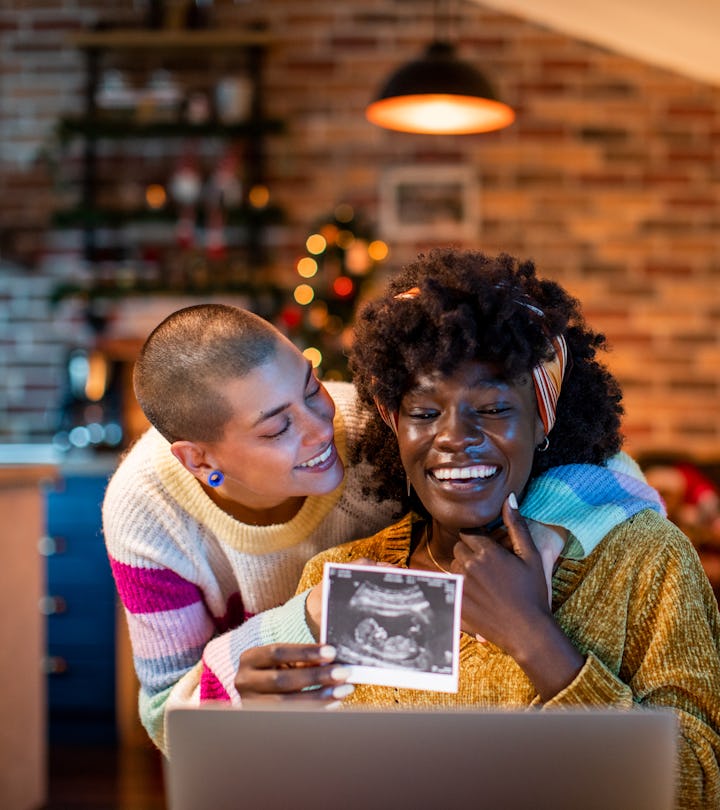 Marko Geber/DigitalVision/Getty Images
11 Things Not To Say To A Pregnant Person On Mother's Day
Mother's Day is about one thing, and one thing only: celebrating moms and all they do for their kids. That includes pregnant moms, too, because the work of raising children begins with those 40 long weeks it takes to grow them. Moms-to-be absolutely deserve to be a part of any special festivities, games, and activites on the big day, but keep in mind that there are definitely some things not to say to a pregnant woman on Mother's Day — unless you want to earn yourself a permanent place on someone's bad side.
First, let it be known that pregnant people do not need to deal with others debating whether they "count as moms" yet on Mother's Day if they're pregnant. So, if opinions on their official status as a mother arise, that conversation should be immediately shut down. The last thing they need is to be body-shamed or hear insensitive comments, and there are some things you should just never say to any pregnant person, period, no matter what day it is. They can come across as flat-out rude and seriously offensive (even if they may seem harmless enough on the surface), and those comments they dread hearing are even more important to avoid on a day that's supposed to be all about celebrating moms. Hey, it never hurts to be kind, especially to someone who's doing all the work of creating another human being.
If any of these comments or questions arise around a pregnant mom, just remember to keep mum (pun intended), and it'll be a happy Mother's Day indeed. Here's what not to say to a pregnant woman on Mother's Day — or on any other day.
Pregnancy is an exciting thing, and people love to push their observations and thoughts onto the pregnant person. But what may be intended as a harmless question, well-meaning advice, or a meaningless joke can actually come off as just plain rude, hurtful, and tasteless. This Mother's Day, keep the pregnancy comments kind, encouraging, and uplifting instead.
This article was originally published on