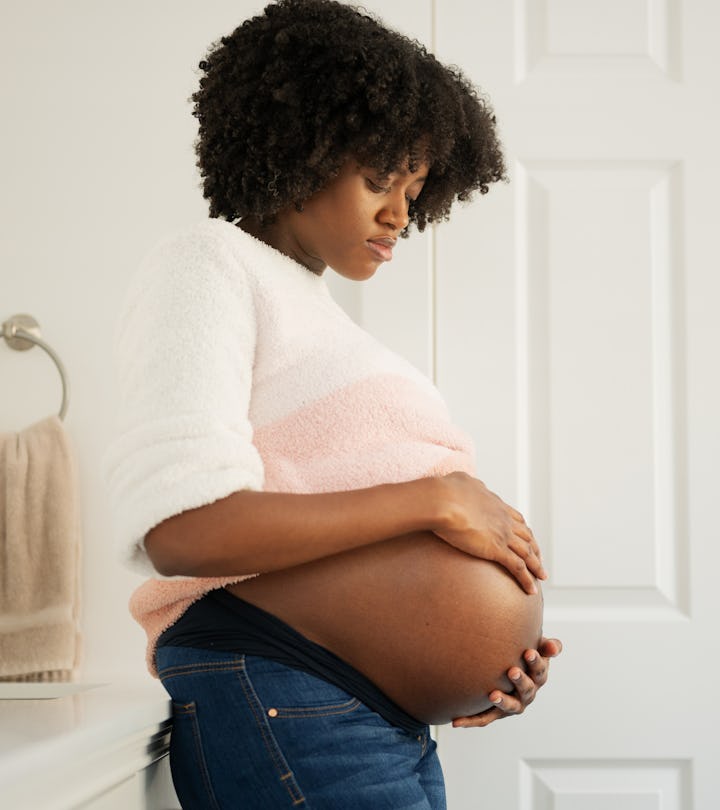 Zach Wolfe/Photodisc/Getty Images
9 Things Not To Say To A Pregnant Woman On Mother's Day
Mother's Day is about one thing, and one thing only: celebrating moms, and all that they do for their kids. That includes pregnant mamas, too, because the work of raising children begins with those nine long months it takes to grow them. Moms-to-be absolutely deserve to be a part of any special festivities on the big day, but keep in mind that there are definitely some things not to say to a pregnant woman on Mother's Day — unless you want to earn yourself a permanent place on her bad side.
Pregnant women do not need to deal with people debating whether pregnant women count as moms yet on this holiday, so if opinions on their official status as a mother arise, that convo should be immediately shut down. Moms-to-be have already had to give up a lot of the joy and fanfare of this experience in the past year, like large baby showers or family and friends obsessing over their growing belly, due to COVID. And on top of planning for their newborn, they have the added anxiety of trying to keep from catching the virus during this fragile time. The last thing they need is to hear insensitive comments, and there are some things you should just never say to any pregnant woman, period. They can come across as flat out rude and seriously offensive (even if they may seem harmless enough on the surface), and those comments are even more important to avoid on a day that's supposed to be all about celebrating moms. Hey, it never hurts to be kind, especially to someone who's doing all the work of creating another human being and everything.
If any of these comments or questions arise around a pregnant mama, just remember to stay mum (pun intended), and it'll be a happy Mother's Day indeed.