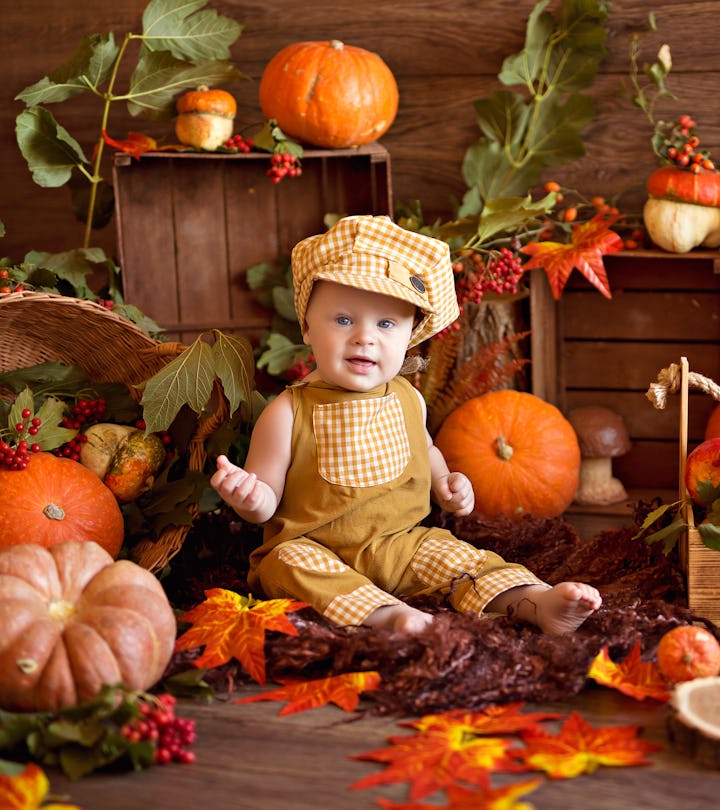 Shutterstock
10 Cute & Cozy Ways To Mark Baby's First Turkey Day
Crocheted turkey hats, anyone?
Let's be real: Halloween and Christmas tend to hog much of the spotlight in terms of "Baby's First Holiday" experiences. We get so hyper-focused on dressing our infants like plush lobsters, or on assembling the perfect Montessori-approved toy list, that we often don't make much of a fuss over Baby's First Turkey Day. But we should! Which is why I've rounded up some sweet and memorable ways to mark your baby's first Thanksgiving.
My own son is a November baby, so he was obviously teeny tiny on his first Thanksgiving. I was in no shape to travel to family that year, so our dinner was an intimate gathering of five: baby, my husband, me, and my two engorged breasts. I'll be honest that I don't really remember it all that well, other than that our oven set off our carbon monoxide detector and the evening ended with about eight New York City fireman standing in our tiny kitchen.
But Thanksgiving is actually kind of a lovely holiday for new parents. I mean it's all about gratitude, yes? A what could you possibly feel more grateful for than this amazing, brand new, beautiful and drooly person you're holding in your arms? Also, babies don't have opinions on vaccines or Dave Chappelle. Which, depending on your family, may make them the easiest person to chat with at dinner.
No matter what you do this Thanksgiving, just be sure to pause from the Instagramming and photos and general family chaos, and take a moment to take it all in. Take in your new family. Eating pie together. For the very first time. Baby's first Thanksgiving.