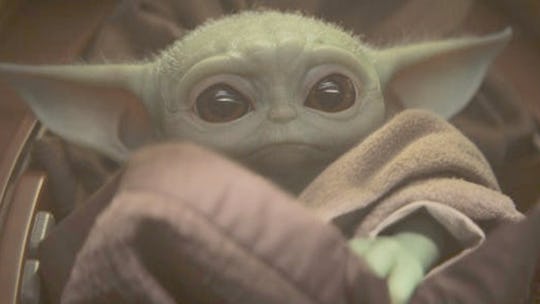 Disney+
15 Baby Yoda Gifts To Make Jedis Of All Ages Happy
Whether you're shopping for "The Child" in your life or a grownup Mandalorian fan, there are gifts out there for Baby Yoda lovers of any age.
Baby animals in cute costumes are one of the few things in this world that are universally adored, which is exactly why Baby Yoda has captured so many hearts. Because this little green character from The Mandalorian is so popular, it's safe to say that this year Baby Yoda toys and gifts are high on the wish lists of both new and old "Star Wars" fans alike.
"The Child," as he's actually called, has that ugly-cute thing down pat. We're likely drawn to him because of "baby schema", which is the scientific name for the nurturing feeling people have toward creatures with exaggerated features like big eyes or round faces, The Cut explained. Ugly-cute animals cause baby schema, which is why we ooh and aah over funny looking pugs with cartoon eyes and, apparently, small Yodas with huge ears and fabulous coats.
And this year, we finally know his real name! Fans have wondered since the show premiered whether little Grogu was actually a young Yoda, Yoda's son, or an unrelated being from the same part of the galaxy. While viewers didn't learn all the details about his family tree, one thing has always been certain: whoever Grogu is, he's really freakin' cute. Read on for Baby Yoda gifts that are sure to be as loved as this mysterious little creature.
We only include products that have been independently selected by Romper's editorial team. However, we may receive a portion of sales if you purchase a product through a link in this article.
This article was originally published on