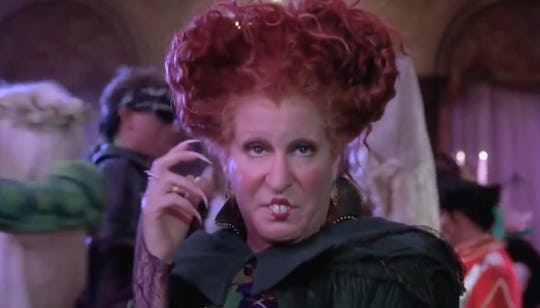 Disney
15 Spooky Disney Songs To Make The Ultimate Halloween Playlist
From The Nightmare Before Christmas to Hocus Pocus, these Disney movies offer up spooky tunes for a scary-fun Halloween night.
What could possibly make Halloween more fun than buckets of candy, imaginative costumes, and late bedtimes? How about a scary-good playlist filled with Disney's greatest spookiest hits? From modern classics like The Nightmare Before Christmas and Hocus Pocus, to kid-favorite cartoons like Sofia the First and Vampirina, these productions are bursting with songs perfect for a holiday dance party. There's a mix of thumping, raucous tunes, and eerie ballads that'll set the tone and create a haunting mood. And the songs here are perfectly ordered to just download and play. So whether you're set on trick-or-treating safely distanced around your neighborhood, or prefer to keep your festivities close to home this year, a playlist is an easy way to get everyone in the spirit.
If you're having a festive little Halloween party, or simply sitting around the dinner table with the family, you can also add a fun game element to the night: Just let this playlist run and offer a piece of candy as a prize to the first person who correctly identifies from which movie each tune originated. Bonus points (or M&Ms) if the person can correctly name the character who sings the song. Because what's more sugar on the year's (literally) sweetest night?