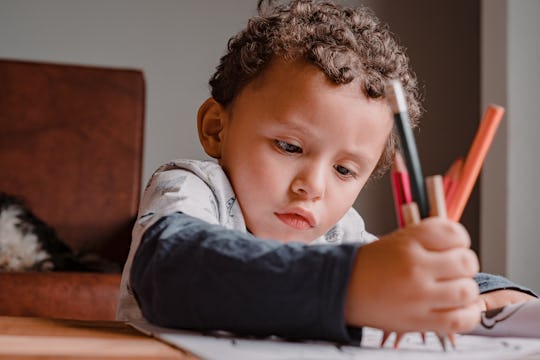 Shutterstock
12 Cute & Totally Free Printable Father's Day Coloring Pages In Spanish
Dad will have a fabulous Dia Del Padre when he receives one of these coloring sheets.
For Father's Day, dads aren't always expecting anything fancy for gifts. In fact, my husband literally just wants to grill steaks outside and drink a beer, and receive something our 4-year-old made for him on Father's Day. That would make him incredibly happy. I feel most dads are very similar in their thought process about Father's Day gifts. If you're looking for an arts and craft activity that's a little less hands-on for you, and something your child can completely do on their own (even if it's just some lines on a page), you may be looking for some free Father's Day coloring pages in Spanish.
Not only are there regular Father's Day coloring pages in Spanish, but some of them are bookmarks, cards, and fill-in-the-blank sheets. Lots of fun for your kiddo to make while creating something sentimental dad will love and cherish forever.
If your family is bilingual or you speak Spanish, these Spanish Father's day printable coloring sheets will be perfect for Dia Del Padre. Totally cool if the dad in your life also wants some gifts and pampering on Father's Day, but having a Father's Day coloring sheet definitely sweetens any gift you're giving him.
Anything from your child on Father's Day will mean a lot to Dad. But something that can be hung on the fridge or on a wall for everyone to admire is worth more than an expensive gift. Maybe these coloring pages can be laminated to be used as Father's Day decorations in the month of June. We decorate for every other holiday, so why not make it a new tradition?