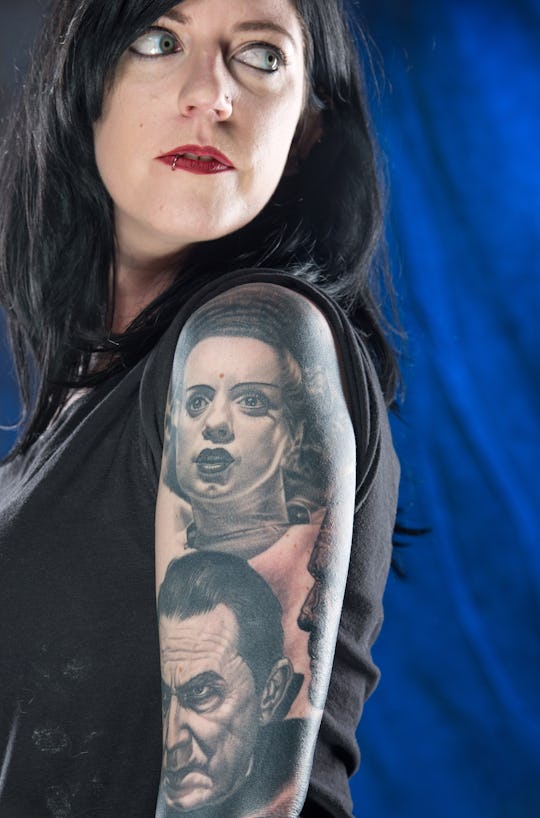 MediaNews Group/Orange County Register via Getty Images/MediaNews Group/Getty Images
These 31 Halloween Tattoos Keep The Holiday Going All Year Long
Ever wish it were Halloween all the time? Getting ink is one way to make spooky season last, because Halloween tattoos are a fun and frightening reminder of the holiday that don't disappear after October 31. It's like a little Halloween costume you never have to take off.
Best of all, there's no end to the sources of inspiration for Halloween tattoos. You can go for cute, classic images such as Halloween candy, smiling Jack-O-Lanterns, or black cats. Or choose your favorite movie monster and get a lifelike portrait. Whether you like the folklore and history of Halloween, or you're a die-hard horror movie fan who wants to commemorate Freddy Krueger forever, there's a zillion different ways to reference Halloween with your tattoos. Oh, and don't forget about haunted houses, ghosts, Ouija boards, fairy tale witches, skeletons, and everything else that goes bump in the night.
If it's your first time going under the needle, here's what you should know before getting a tattoo. (Basically, research your artist and remember that there's no such thing as a painless tattoo.) Also, don't copy other people's tattoo designs outright, just use them for inspiration when coming up with your own image. Otherwise, have a blast checking out these Halloween tattoos that celebrate the spooky holiday with some weird, wild, and jaw-dropping designs.
Whether you're a big fan of horror movies, black cats, pumpkins, or even candy corn, there's so many ways to celebrate spooky season with some ink. As these Halloween inspired tattoos prove, this holiday is worth celebrating all year long.