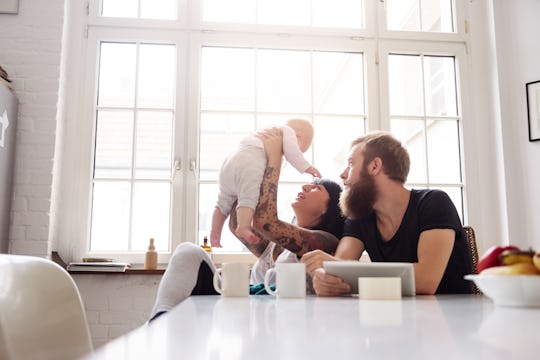 Hinterhaus Productions, Getty images
12 Rainbow Baby Tattoos
These beautiful designs have a lot of heart.
For many people, getting a tattoo is a lasting way to honor a big life change or a loved one. With this in mind, it's no surprise that so many people get rainbow baby tattoos to commemorate their children. These little ones have a special place in their parents' hearts, and the ink reflects this bond.
Rainbow babies are babies that have been born after a loss (miscarriage, stillbirth, or death during infancy). These children are termed rainbow babies because they are essentially the light that parents embrace after a dark and difficult loss. And similar to purple butterfly tattoos, which symbolize a loss in a multiple pregnancy, these tattoos are another way parents can celebrate their rainbow baby while simultaneously memorializing their late child. From colorful baby footprints to heartfelt quotes, there's no end to the creative and sweet rainbow baby tattoos that parents can choose from.
Whether you're into minimal tattoo designs, name tattoos, or larger and more elaborate one-of-a-kind pieces, you can find a rainbow baby tattoo that suits your taste. The following suggestions are meant to inspire the original piece you and your tattoo artist put together — something that is unique, personal, and meaningful to you, and beautifully symbolizes both what you've lost and gained.
Whether you like large, detailed designs or small and subtle symbols, the amount of ways to create a rainbow baby tattoo in honor of these special children are endless.