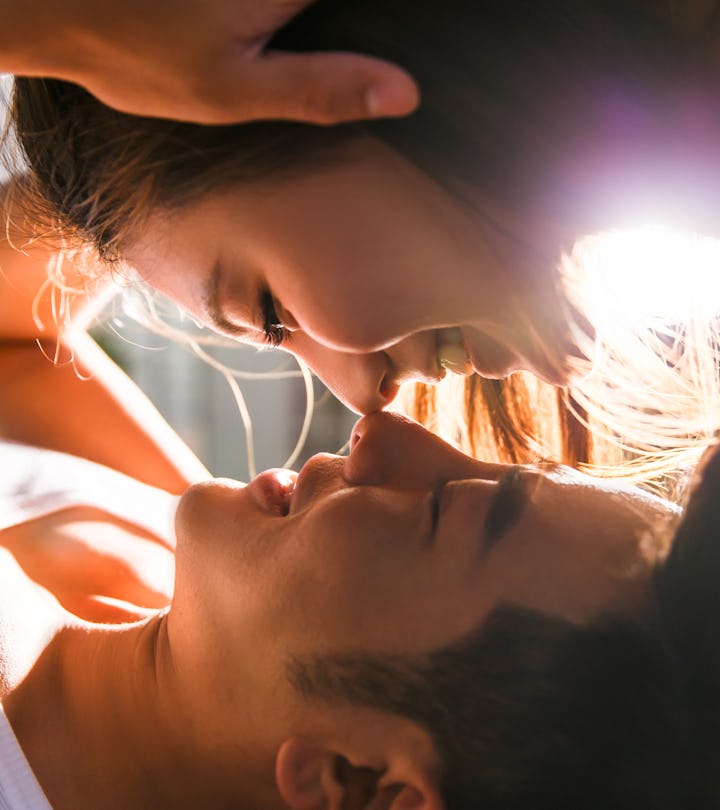 ViewStock/View Stock/Getty Images
32 Sexy Games For Couples
Ready to spice up date night?
We may receive a portion of sales if you purchase a product through a link in this article.
Dinner and a movie. Netflix and a bottle of wine. Stuck in a date night rut? If your regular routine could use a bit of a shake-up, playing a game with your partner is one idea to explore — and I don't mean Monopoly. You wouldn't want to break out these sexy games for couples for family game night, but they're perfect for the next time you have some alone time and want to get in the mood.
From board games with a raunchy theme to Kama Sutra card decks and racy game ideas you can play together, these ideas can help you explore, connect, and enjoy one another in a whole new way. Light some candles, grab your grown up toys, and get ready to play.
1. 20 Sexy Questions
It's just the game 20 Questions, but sexy. One person thinks of a sexy object or topic and the other asks up to 20 yes or no questions to try to guess correctly.
2. Would You Rather
Play this classic game with your partner and make it as kinky or cute as you want to. Things like: "Would you rather touch me here or there?" and "Would you rather take a trip to Italy or Spain?" You set the tone.
3. Talk, Flirt, Dare
Simple and easy to play, Talk Flirt Dare lets you and your parter explore new conversations, flirt in bold ways, or engage in exciting dares, depending on which card you choose.
4. Sexy Video Game Battle
There are a couple of ways to make this type of sexy game for couples work. First, you could have one person play their favorite video game while the other teases and touches them. The player's objective is to get through to the next level without stopping or reacting. Then, you switch places. You could also play a multiplayer game in rounds where after every round the loser has to take off a piece of clothing, strip poker style.
5. Monogamy
A board game for couples, Monogamy has more than 400 ideas to inspire you to play with your partner as you engage in a heated affair with one another. Choose from three different levels — passionate, intimate, or steamy — depending on just how raunchy you want things to get.
6. Strip Anything
You can turn any game into a sexy game for couples just by taking off your clothes. Strip poker, Strip Boggle, Strip Uno, Strip Trouble... you get the idea. Basically, if you lose a round, you lose an article of clothing.
7. Naked Twister
Take it all off and see what positions this twist on Twister can get you into. You'll probably wind up laughing together, stretched out naked across a plastic mat, but that's part of the fun.
8. Sexy Truth Or Dare
This game of Sexy Truth Or Dare gives you erotoic prompts to play with your partner. You can also just come up with risqué questions to pose to one another to put a sexy twist on a basic game of truth or dare. Dare one another to role play or tell the truth about your biggest fantasies — the options are really endless.
9. Guess What?
This one is a great one to play in the bedroom if you want to take foreplay to the next level. Start by having one partner blindfolded, naked, and laying down. The other partner uses either an item around the house (maybe a feather duster or a sex toy) or part of their own body to tickle or touch the blindfolded partner. Then, the parter wearing the blindfold has to try to guess what is touching them.
10. Lovehoney Oh! Hot Knots Game
This is one sexy couples card game that can really spice things up is Lovehoney's Oh! Hot Knots. Between the blindfold, satin restraints, and a 52-card deck of fun ideas, you're in for a pleasure-filled game night.
11. Never Have I Ever
Want to learn something new about your partner? Play a few rounds of Never Have I Ever and give your questions a sexy upgrade with every round.
12. How Many Rips?
If you have some cheap lingerie, an old t-shirt, or other clothing you don't mind getting torn to shreds, this can be a fun game to get you both in the mood. Each of you write down your guess as to how many rips (of what one or both of you is wearing) it will take for you to wind up naked. You can also set rules like you can only use your teeth or you can't use your right hand to make the game more difficult.
13. Sexy Jenga
Grab your Jenga set and a permanent marker to create your own sexy game. You can add ideas like "touch your partner" or "kiss for one minute" to a few blocks (or more) so that when those blocks are drawn, you have to do what is written on them.
14. Loopy
Not only can this sexy game bring you closer to your partner physically, but it can also help you connect on a deeper level. Loopy has more than 150 cards to choose from and a satin blindfold included. You can also use the cards on their own without the game's spinner if you're just looking for some sexy conversation starters.
15. Fantasy Pictionary
Grab some paper and a pen and draw out your ultimate fantasy for your partner for a sexy spin on a game of Pictionary. You can also take turns drawing and guessing sexy objects or scenes from your relationship.
16. Lick It Off
Prepare to get a little messy playing this game. With one parter blindfolded, they'll use their tongue to taste various edible substances (think chocolate syrup, honey, caramel sauce) by licking them off of the other person's body.
17. Honi
You do everything else on your phone, so why not play a sexy game for couples right on your mobile device? Honi is a sex-focused game app with plenty of racy quizzes, dares, positions to try, and other ways to play with your partner when you want to spice things up.
18. 7 Minutes In Heaven
Grab a blindfold, set a timer, and head to the nearest closet for an epic make out sesh — or more.
19. Risqué Mad Libs
Whether you make up your own stories, print them out, or already have a stack of Mad Libs books at home, it's not hard to make this game a little sexier. Simply insert dirty words or phrases to give your Mad Libs a raunchy twist.
20. Sexy Dice
You could invest in a specific set of dice for lovers, but it's super easy and just as fun set your own rules with pen and paper and numbered dice you already have. Write down numbers 1-6 with actions like "kiss," "touch," or "fondle," next to each number and use that as a guide for your first die roll. For the next roll, have another column numbered 1-6 with different areas of the body. Then, just do what the dice instruct you to do.
21. Drunk In Love
If you and your partner want to get a little tipsy during your sexy game night, Drunk In Love can help you do just that. The game includes 99 cards with various instructions like "drink if you..." that can apply to one or both partners, as well as cards where you must do what the card says or take a drink if you don't.
22. The Newlywed Game
How well do you know your significant other? Give your night of gameplay together a classic gameshow vibe and ask one another questions in the style of The Newlywed Game, writing down answers as you go to see how many you can each get correct. Loser owes the winner a sexy massage.
23. Spicer
Another app for couples with sexy games to play is Spicer. When you want a way to broach new bedroom ideas with your partner, this app sends you each ideas for activities and positions to try and asks you to answer yes or no individually. If you both answer yes to the same idea, the app lets you know it's a match so that you can try it together.
24. Naughty Hide & Seek
Hide a new sex toy somewhere in your house and have your partner search for it. You can say hot or cold depending on how close or far they are from the toy.
25. Timed Teasing
All you really need to play this sexy game for couples is a timer. Set it for the desired amount of time and pick one person to tease the other until the timer goes off. You can use handcuffs if you want, or just make a rule that the person who is being teased has to be still and not engage. Then, when the timer goes off, switch roles.
26. The Ultimate Game For Couples
Since this card game is intended to deepen your connection, The Ultimate Game For Couples can totally set the mood for a sexy night of game play. You'll laugh, think, talk, and touch through the card decks and even find ideas to spice things up along the way.
27. Mystery Mouth
Engage all of your senses by playing this sexy game for couples that involves tasting different drinks while blindfolded. You can use alcoholic or non-alcoholic beverages to play, but the idea is to try to guess which drink your partner has you sip without looking. This game gets surprisingly sensual since it's actually harder than it seems and spills (that you can lick clean) will probably happen.
28. Sexy Scavenger Hunt
There are a few different ways to go about having a sexy scavenger hunt, but the main goal is to make it steamier than the regular version. So, you can write sexy clues about where you've hidden a toy or hide yourself (naked, naturally) and leave your partner clues to try to find you — the details are really up to you.
29. iKamasutra
Another sexy game for couples to explore together that you can download right to your phone is the iKamasutra app. Like a digital challenge between you and your partner, this app is a way to keep track of new positions you want to try, tracking the level of difficulty, likes and dislikes, and giving you new ideas to engage in together every time you open the app.
30. Dirty Tic Tac Toe
Draw out a tic tac toe board and add sexy moves or actions to each square like "lick" or "grab." Then, using index cards, write down a different body part on each card. For each turn, you'll take turns putting an X or O over a square and drawing a card, combining the two and doing the action to the body part you draw.
31. Sexy Scrabble
Grab your Scrabble board, but set this one rule: dirty words only.
32. Taste The Rainbow
Similar to a dirty dice game, you can use a bag of Skittles to set up a sexy game for you and your partner. Assign a sultry move or action to each color and take turns grabbing a Skittle at random to determine which move you do next. You can also grab several at once to combine moves.
Whether you're in the mood for a game with romantic vibes or something a bit risqué to spice up your night, these sexy games for couples are sure to ignite a spark between you and your partner.