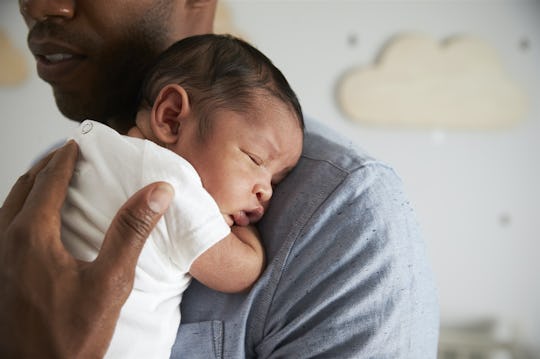 Monkey Business/Fotolia
10 Dads Share What It's Like To Stay Up At Night With Their Babies For The First Time
Everyone knows that newborn babies mean a lot of sleepless nights, but you don't really know what that means until you live it. In my experience, nothing can adequately prepare you for what a life without a good night's sleep is going to be like, but it's my duty to try to prepare you. So I asked dads what it's like to stay up at night with their babies for the first time, and they kept it real.
My husband and I tried to be as equitable as possible about nighttime wake ups with our kids. Considering I was breastfeeding, this was often quite difficult, but whenever possible my mister was up with the baby. Something you should also know about my dude: he places a premium on sleep. Some people (yours truly, for example) are OK with very little. Other people (my dear husband) will get a solid 10 hours and still get to a point in their day when they think: "Man, I'm exhausted. I could use a nap."
So when I asked him what that first night up with our son was was like, he just sort of looked at me with a face that simultaneously said "You were there. You remember," and, "We do not discuss such dark, dark days."
OK. Far be it from me to bring up past unpleasantness. But what did other dads have to say?