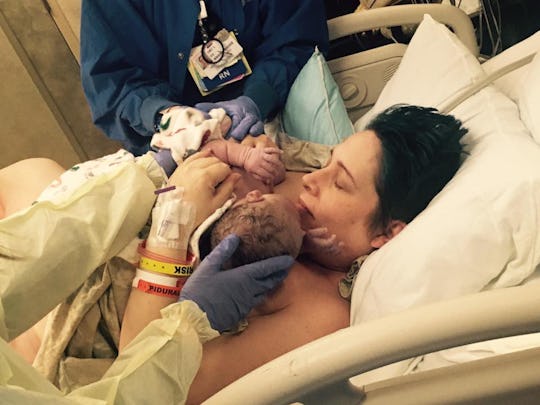 Courtesy of Steph Montgomery
10 Pieces Of Childbirth Advice From Other Moms That Made Me Feel Ready
My friends threw me an amazing baby shower when I was pregnant with my first child. During the festivities one of my experienced mom friends passed out note cards and had each guest write words of advice, blessings, and fond wishes for me and my baby-to-be. Reading those cards aloud is by far one of my favorite memories from pregnancy, and their childbirth advice made me feel ready for labor and delivery. Well, as ready as any first-time mom can feel, anyway.
Some of their advice was pretty simple, like, "When all else fails, just keep breathing." Those words of wisdom seemed obvious at the time, but ended up being a necessary reminder when labor grew particularly intense. Others were more practical, like, "Remember you are in charge." It can be difficult to say "no" or ask "why?" or even to request that someone leave the room when you're in labor, but you have a right to give birth with dignity and to have your wishes respected when medically possible. Other pieces of advice were surprising, like, "Getting induced doesn't have to suck." I later discovered that induction wasn't the scary, horrible experience I feared it would be, either.
Most importantly, I learned that my birth experience didn't have to depend on a highly specific birth plan or set of unreasonable and unreachable expectations. Whatever happened I knew I could birth my baby, and with the support of my friends and family and their mantra-like words of advice I felt empowered to have my baby on my own terms.