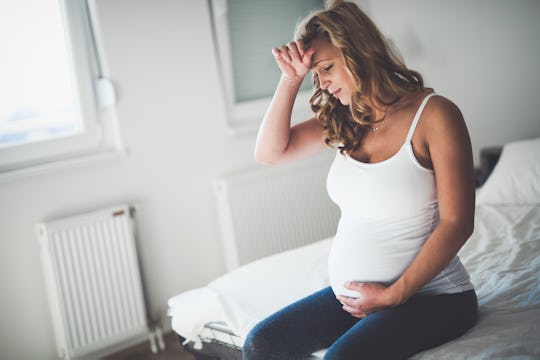 Fotolia
10 Reasons Being Pregnant Is One Of The Hardest Things You'll Ever Do
There's nothing easy about being pregnant, and I say this as someone who runs marathons, has volunteered with the Peace Corps, and has been an escort at an abortion clinic. I know the difference between "easy" and "hard." I honestly can't believe I got pregnant again after my first. On purpose. All of those happy birth endorphins must've made me forget the pain. I mean, yes, pregnancy is amazing, childbirth made me feel like a warrior goddess, and I love being a mom. But there are so many reasons being pregnant is one of the hardest things you'll ever do.
From the moment the second line appears on a pregnancy test, you are in for a 40 week (more or less) endurance event that throws challenges at you from all directions, like some messed up game in the Olympics. The first trimester brings the worry and stress of not knowing if your baby is OK while you simultaneously wonder WTF is happening in your body. Not to mention mood swings, vomiting, and awkwardly falling asleep in random places, like your desk or during sex (I was really tired, dear).
If you are lucky, the second trimester will be awesome and those horrible first trimester side effects will subside. Or, if you're unluckily like me, you will still be vomiting, but will also have the added bonus of sciatica, hives, and acne. The third trimester is, well, let's just say it lasts roughly three months but feels more like 30, especially when you consider the back pain, pelvic pain, swelling, Braxton Hicks contractions, and outgrowing even your largest maternity clothes. Then, like some bizarre triathlon, you have to run the marathon that is childbirth.
On the bright side, once it's all over you get a baby out of the deal. Which is awesome, because parenthood is so much easier than pregnancy. (OK, that's a lie. Parenthood makes pregnancy seem like a warm up to the main event, which it kind of is, if you think about it.)