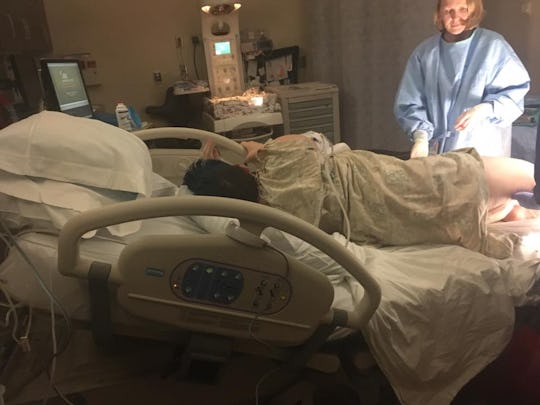 Courtesy of Steph Montgomery
20 Women Describe What Back Labor Actually Feels Like
Whenever a doctor asks me to rate my pain on a scale, with one being minor discomfort and 10 being the worst pain I've ever felt, my mind immediately goes to back labor. Back labor was seriously the worst pain I have ever felt. Sometimes I wonder if it's just me, though. I mean, it's possible I'm just a total wimp when it comes to pain, right? So, I asked some other moms to describe what back labor actually feels like. Turns out, for better or worse, it's not just me.
So, what was it like? Well, for me it felt like I was being stabbed in the back with a white hot poker while my hips were being torn apart. It was so bad that I doubled over in pain and was unable to speak coherently enough to beg for an epidural. The pain was constant and nothing like the pain described in that one birthing class I attended. To make matters worse, my labor and delivery nurse was like a drill sergeant, making me do lunges and squats in the hallway in order to help my labor naturally progress. I screamed so loudly that a couple of other laboring women came out of their rooms and asked me to be quiet. (Clearly they were not experiencing back labor).
Back labor was completely different and way worse than I imagined my labor and delivery pains would be. I honestly think I was caught off guard because so many people gloss over the pain they felt when they tell their birth stories. Like if they dare to admit how much it hurt it will make them seem weak. I have heard other people swear their labor was magical, serene, and even pleasurable. I don't know whether they're telling the truth, lying through their teeth, or somehow forgot the pain in a rush of oxytocin after their babies were born. I do know that they probably didn't have back labor, because that pain was and forever will be unforgettable.
Here are a few painfully accurate descriptions of back labor, as told to me by some badass moms who totally know how it feels and aren't afraid to share: