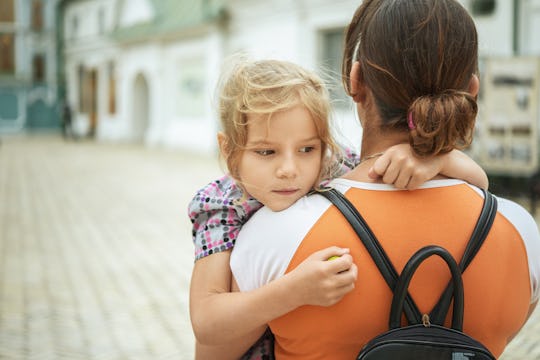 Fotolia
10 Things A Mom Suffering From Anxiety Would Love To Never Hear Again
When I decided I wanted to be a mother, I knew there were certain sacrifices I would not only be willing to make, but would have to make. I knew sleep was going to be a distance dream for the foreseeable future; I knew nights out with friends would be few and far between; I knew body autonomy wouldn't be as easy to own when I was co-sleeping or breastfeeding. One thing I wasn't willing to sacrifice, however, was my mental health. Sadly, there are things a mom suffering form anxiety would love to never hear again because our society has convinced mothers (and everyone else) that being a good mom means you do sacrifice absolutely everything. Yes, mental health and all.
After my son made his way into the world, I found myself suffering from postpartum depression and postpartum anxiety. I had a very traumatic pregnancy, labor and delivery, which resulted in one baby dying 19 weeks into my pregnancy and my labor ending in the birth of a baby that was alive, and the birth of a baby that wasn't. I had a difficult time automatically bonding with my son, for fear that — like his twin — he would die and I would be left with another devastating heartbreak I wouldn't know how to (or be able to) handle. So, in rolled the depression and the horrific anxiety and I was afraid or unwilling to leave the house, I couldn't sleep, I didn't want to eat (even though I was breastfeeding) and I was constantly crying.
I stayed silent for far too long because I was convinced that being a "good mother" meant not needing anything anymore. I had a son now, and he needed me so I shouldn't be the one asking for help or support or anything of the sort. I was so, so wrong. Thankfully, my partner reminded me that being a mother doesn't mean I am no longer a human being with very human needs, and I received the help I so desperately needed and deserved. I started speaking out about postpartum depression and anxiety which, while empowering and fulfilling and beneficial, also left me open to hearing the following things. If we truly care about mothers as much as we claim we do on Mother's Day, we need to support mothers in every aspect of their lives. We need to remind them that motherhood does not mean constant self-sacrifice. Instead, it means constant self-care.