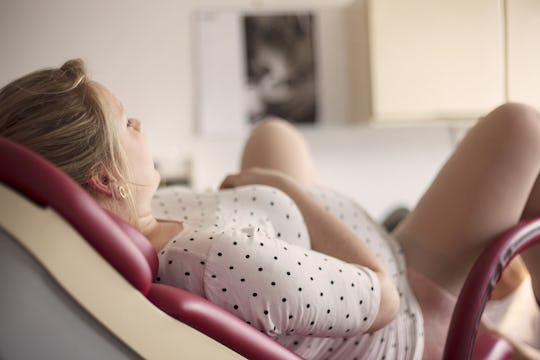 Fotolia
10 Things Dads Just Don't Get A Say In When It Comes To Picking An OB-GYN
I'm part of the thinking camp that things, if you're having a baby with a person, you should be part of a parenting team. Whether you're in a romantic relationship or co-parenting, the two of you are now bound together by this mini-human and, well, that should mean certain decisions are made together. There are some decisions, however, that the non-pregnant partner just doesn't get a say in because, well, they're not pregnant. So sorry, fellas, but there are things dads just don't get a say in when it comes to picking an OB-GYN, and while I'm all about advocating for equal parenting responsibilities and teamwork and the like; the pregnant woman needs to be calling the shots, especially when she's looking for someone to help her do one of the most incredible, and one of the most difficult, things she'll ever do.
Of course, this goes for any partner of a pregnant person, regardless of gender. However, when that partner is a cisgender male (completely incapable of ever experiencing pregnancy, labor, delivery or postpartum life) it's extremely important that they learn how to take a back seat and let their partner drive. Just like the pregnant woman is looking to find someone she can trust when she's at their most vulnerable, the soon-to-be dad needs to learn to trust his partner when he is, perhaps, at his most vulnerable, too. I know, for my partner, it was very difficult for him to relinquish control because he was scared. Two people he cared the most about in the entire world were going to be in the hands of someone else and that person was going to be responsible for our continued health. That's not easy, I am sure. Still, how I felt about my OB-GYN is what mattered most, and my partner knew that if I trusted and felt comfortable with my doctor, he could, too.
So, while this decision is best made as a parenting unit and together, if your partner doesn't feel comfortable with your OB, but you do, the final decision should default to the pregnant woman. After all, she is the one who is going to bring another human being into the world, so she should be the one who decides who helps her. With that in mind, here are just a few things about finding your obstetrician that a dad just doesn't get a say in. Sometimes, gentlemen, being supportive means knowing when to back off.