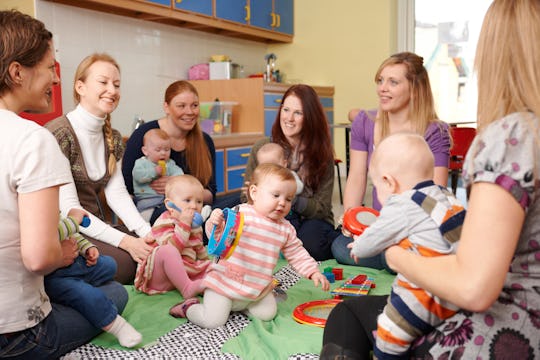 Fotolia
10 Things Every New Mom Thinks About Mom Groups, But Doesn't Say Out Loud
When you're a new mom, it's easy to feel isolated. Chances are pretty high that there's not a lot of adult interaction that happens between the hours of 8am and 6pm for you, so joining a mom group was probably suggested early on by friends or family. Unless you're surrounded by friends having babies at the exact same time, though, you kind of have to step blindly into the mom group world. The things every new mom thinks about mom groups, but doesn't say out loud, can vary, depending on the type of group that mom is in and the kind of connection or solidarity she is looking for.
The bad mom groups are a dime a dozen, if you ask me. Putting together a group of random individuals whose only commonality is having just had a baby can be a recipe for disaster, in terms of personality conflicts. A group of not-so-random women, however, ones that have at least one major thing in common (aside from having given birth) can make for a really amazing mom group, that fosters friendships that will last lifetimes. That was the case for me, when comparing the mom group in my neighborhood (where I was not in the same economic bracket as the other moms) to the PPD support group I found and joined, where our postpartum depression was what bonded us.
Mom groups can be a wonderful thing when you find the right one, and I hope that every mom out there eventually finds the support she needs to get through the tough parts of motherhood. Here are 10 things every new mom thinks about mom groups, but doesn't say out loud, because just like parenthood itself, you have to take the good with the bad.