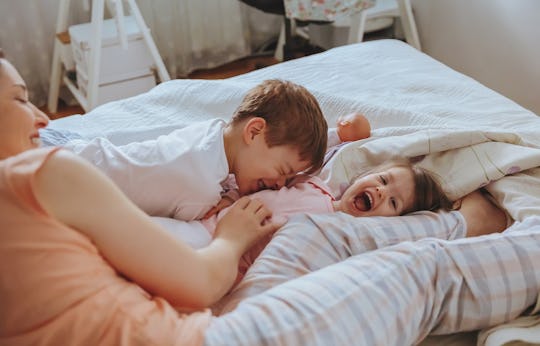 Fotolia
10 Things No One Tells You About Teaching Body Positivity To Your Kids
When I held my son in my arms for the first time, I was bombarded by questions I didn't have the answers to. They were self-perpetuated, they came out of nowhere and they left me heavy with the weight of my new responsibility. I didn't know how I was going to teach him all the things I wanted to teach him; from big things like consent and body positivity, to little things like how to throw a football. There are things no one tells you about teaching body positivity or consent or the concept of death or, well, anything, and it's enough to make even the most seasoned of mothers (and especially us new ones) fraught with worry and an overwhelming sense of inadequacy.
Of course, when I was in the hospital holding my minute-old child, I also didn't realize that I didn't need to have all the answers, especially right away. Just like any other lesson I hope to one day teach my son, teaching body positivity is going to be a constant work-in-progress. I'm going to have to be diligent; I'm going to have to practice body positivity myself; I'm going to have to be kind to myself when things don't go according to plan and teaching something as simple as loving your body, proves not to be so simple at all.
Which is why, in the name of solidarity and in the hopes that teaching body positivity becomes one of those no-brainer parenting decisions (like making sure your kid is adequately fed and is safe and, you know, sleeps) here are a few things no one tells you about teaching your kid body positivity. The better prepared we are for the big life lessons, the easier they'll be to actually teach. Right?