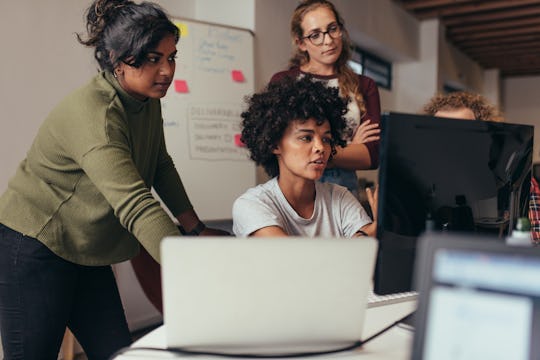 Shutterstock
10 Things You Don't Have To Do When You're A Working Mom, Even Though Everyone Says You Do
I got a lot of parenting advice when I had my first baby. There was one subject, though, that didn't come up as often: how to handle going back to work after having kids. Everything I read or heard was something along the lines of, "Oh well, do the best you can because you'll feel like you're failing at one or the other at any given the time." So, I spoke to other working parents I knew and when my maternity leave ended, I realized there were things you don't have to do as a working mom, even if they work for other people and even if they swear by them and even if they say you should.
As a parent, my instinct is to do whatever is best for my children. Still, I don't singularly define myself as a "mother." I've worked hard to cultivate a career I love, doing creative work that, for me, justifies being away from my kids 10 hours a day. I often get frustrated by other people's opinions on working moms. The first myth we need to debunk is the notion of "having it all," because no one, including working dads, or retired presidents, can ever make that claim. So if we can change the idea of "all" to that of "fit," that's something I can get behind and wholeheartedly support. Form, that notion would simply mean I strive to make the many different parts of my life — family, job, friends, reading, exercise, staring into space with a hot cup of coffee — fit together, like shifting pieces in a puzzle that is never put together the same way twice.
Once I debunked the notion that there was an "ideal" role model for me as a working mom, I trusted myself to make the best decisions for my kids, and me, when it came to the part work plays in all our lives. I want my kids to be proud of me. The legacy of good parenting is wonderful, to be sure, but I want to inspire them with what my career has enabled me to achieve.
So here are the things I felt I didn't have to do as a working mom, even though a lot of people said I did: