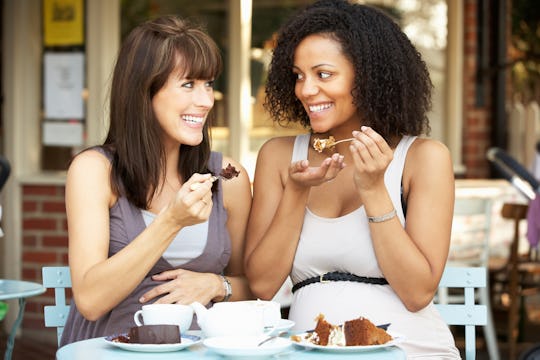 10 Things Your Baby Is Thinking When You Eat Weird Sh*t When You're Pregnant
It's impossible to know what a baby is actually thinking. However, when you're pregnant and impatiently waiting to give birth and you have some time on your hands, your mind wanders. Your mind definitely takes a turn to crazy town when you're eating white rice and ranch dressing because, well, who eats white rice and ranch dressing? I did when I was pregnant, and when I did I couldn't help but wonder what my baby was thinking when I was eating weird sh*t when I was pregnant. If I felt awkward downing giant spoonfuls or ranch-covered rice balls, my kid had to have some feelings about it.
Science has yet to figure out what causes those weird pregnancy cravings most women experience when they're growing another human inside their body. The best "guess" is hormones, which make your sense of smell stronger and, as a result, affects your sense of taste and makes you crave certain combinations of food you wouldn't ordinarily, um, enjoy. I have another, not-at-all scientific theory. It's your baby. Your baby is just hanging out in the womb, enjoying the darkness and the warmth, calling the culinary shots because, well, they can. They want to experience the world and all it has to offer before they even enter into it, which means they want to combine some weird sh*t and make you eat it. Fetuses are sadists, you guys.
Of course, like I said, this is just a theory. A theory I concocted while thinking about my baby and what he probably was thinking when I was eating some weird stuff. Here's what I came up with, thanks to my pregnancy brain. I, for one, don't think I'm that off-base but, well, you can be the judge.