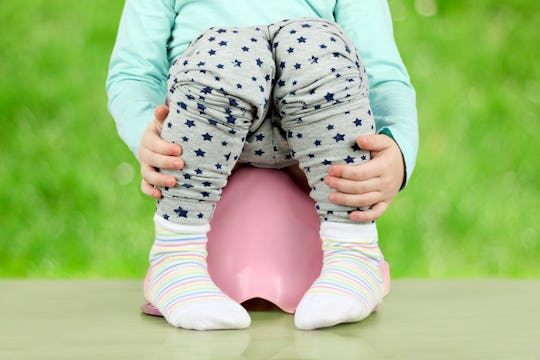 10 Things Your Toddler Is Definitely Thinking When You Start Potty Training
Potty training a toddler is one of those motherhood "rights of passage" that is equal parts hilarious and painfully annoying. You spend way more time in the bathroom than you would like, and most of that time is spent crouching at the foot of a small person singing ABC's and who is not, in fact, actually using the potty the way it's intended to be used. As a mother who has spent more than a few hours in the bathroom with a small human, I can tell you there are things your toddler is thinking when you potty train. Things like, "Wow, if I knew I could get my mom to spend time just staring at me for hours, and do nothing else with her day, I'd sit on this thing forever! Plus, I hear I might get some candy out of this? Score!"
When it came time to start potty training my first born son, I listened and read about all the different potty training methods my peers were trying, and decided I didn't want to make myself go crazy. I took, what I felt, was the most "me-friendly" approach, which is to say I was not all that gung-ho about getting my kid out of his diapers by a certain time or in a specific time frame. I was going to let my kid take the reigns, because I just didn't want to deal with the potential sh*t potty training a headstrong toddler could bring (figuratively, and literally).
Still, we dabbled in some potty training, and I'm sure I made some mistakes along the way that hopefully won't scar him later in life. Looking back, however, (and now that he is in kindergarten), I can only imagine what he must have been thinking during that very special time in our journey together. If I know my son as well as I think I do (and I do) I imagine his potty training thoughts went something like this: