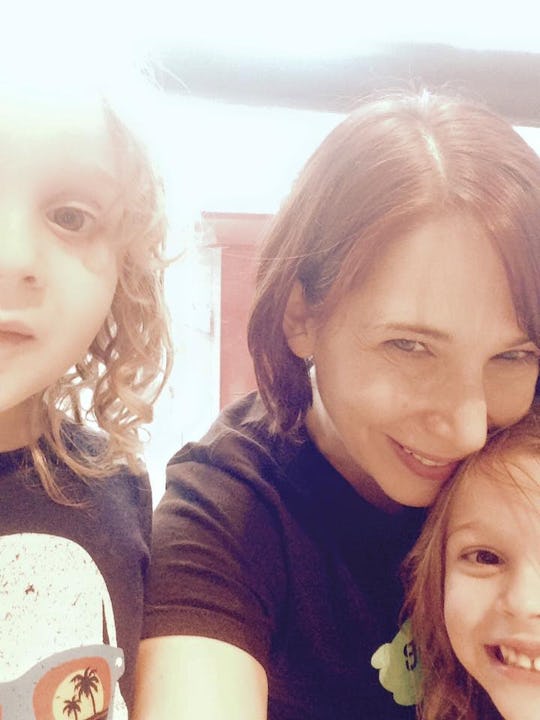 Courtesy of Steph Montgomery
Parenting As A Single Mom Is Easier Than Parenting With A Do-Nothing Partner
Before I left my ex-husband, I was terrified. I was scared to be alone, and I was absolutely sure that I wouldn't cut it as a single mom. I had convinced myself, in no uncertain terms, that parenting alone was going to be way, way harder than parenting with my, at the time, toxic husband. So imagine my surprise when I discovered that, in so many ways, parenting as a single mom was actually easier — much, much easier — than co-parenting with my do-nothing ex-husband.
If I had a time machine, I would definitely go back to the days when I was trying to make my first marriage work and tell myself to leave. Leave right away. Leave because you know it won't get better. Leave because, yes, you can do this whole mom thing on you're own. But I don't have a time machine, and at the time I had no idea that I would not only survive as a single mom to two, but I would thrive... and my kids would, too.
Now, I would be lying if I said that it was easy. In fact, being a single mom is the hardest thing I've ever done. But I found that being just a mom, and not also a partner (and a pseudo-parent) to a narcissistic, selfish, man-child, was so much easier than staying in an unhealthy, toxic relationship out of fear.
For one, I didn't have to fight with my partner all the time, I didn't have to negotiate every decision, and I didn't have to watch someone parent my kids in a way that I thought was inferior and even, at times, harmful. I also didn't have to clean up after both my kids and another adult who was fully capable of doing it himself. As a single mom I could, finally, parent my kids the way I wanted to, and without commentary or interference from a partner who wasn't a very good co-parent.
For these, and so many other reasons, being a single parent was much easier than co-parenting with my ex. I wish I could've known years earlier just how much easier it would be.