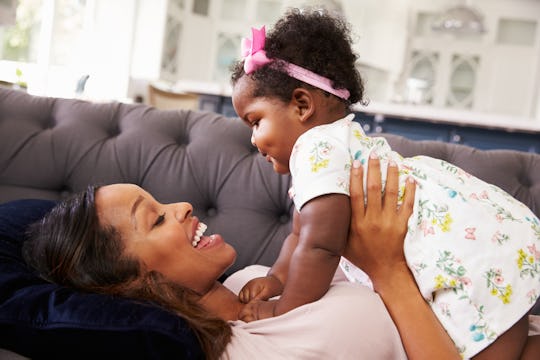 Fotolia
10 Ways Your Toddler Is Trying To Tell You You're Doing A Great Job Parenting
When you have a child, you'll inevitably experience some trying times that leave you questioning your parenting abilities. When you have a toddler, those trying times are pretty frequent. More often than not, you'll probably wonder if you're doing a good job or raising your child "correctly." Thankfully, and somehow, toddlers seem to just know when you need a confidence boost, despite their limited vocabulary. The ways toddlers tell you you're parenting well, even if they may not be verbal, can be everything you need to gain some self-confidence back and, personally, I think those non-verbal reminders are just the best.
Don't get me wrong, I will always love it when my daughter says, "Thank you" and "I love you," especially when both are said on one of our harder days. However, there's just something about the actions she uses to show me her feelings that make those two sentiments all the more powerful. After all, actions do speak louder than words. Through all the toddler tantrums and her frivolous use of the word "no," I know that my daughter feels safe and connected to me and that, my friends, is everything.
So, when and/or if you're down and doubting your parenting abilities, stop and look for the clues your toddler might be using to tell you that you are, in fact, doing an absolutely wonderful job. It might take a while to notice and might be something relatively "little," but when your toddler does the following things, chances are it means you're a great job at this whole parenting thing.