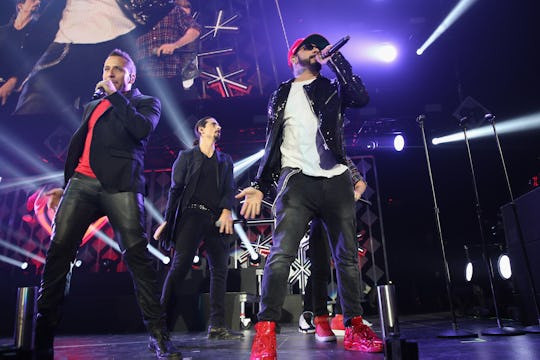 Tasos Katopodis/Getty Images Entertainment/Getty Images
Backstreet Boys That Sum Up Mom Life Perfectly
Growing up I wasn't the type of teen with Backstreet Boys posters on my wall. Something about an 1800's period home lent itself more to fussy wallpaper than tween heart throbs, but that doesn't mean I don't know a whole lot of their songs by heart. Even though moms with small children weren't their target audience, there are still so many Backstreet Boys songs that sum up parenthood perfectly. From the lesser known "Inconsolable" to the superfluous "Quit Playing Games," there's a Backstreet Boys song to describe just about every emotion and level of exhaustion involved in parenting.
There's something perfectly apropos about Backstreet Boys songs' tween whine style that is totally reassuring and calming as a parent. Just about every song has a refrain that you can hum when the going gets tough. Kiddo wants another cookie? Sometimes singing just a few lines of "I Want It That Way" helps soothe the old nerves when they're starting to fray. Having a no-nap day with your toddler? Rock out to "Climbing the Walls" and they might just wear themselves out enough to nap.
Plus, you might just spark a Backstreet Boys playlist that will be equal parts therapeutic and entertaining so, you know, you're welcome.