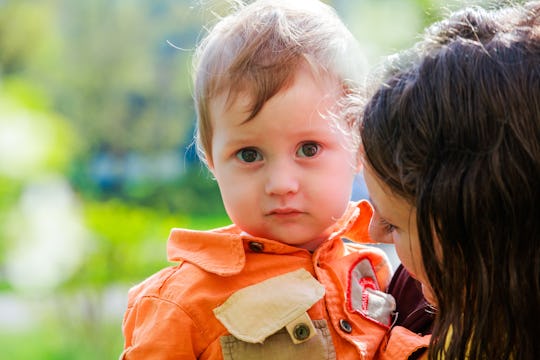 Marina/Fotolia
11 Brave Moms Share The One Thing They're Afraid They'll Pass On To Their Kid
I'm a deeply flawed individual, so there's a plethora of traits I hope my children will never get from me. I hope my daughter never struggles with her body image like I have. I hope my kids learn to love themselves earlier than I did. I hope they appreciate the good in life and not focus as much on the bad. I hope they take risks and aren't paralyzed by the fear of the unknown. When I asked other moms to share the one thing they're afraid to pass on to their kids, I received many similar answers, but one answer dominated: anxiety.
Anxiety seems to be the root of all evil for many moms. And of course no parent would want their kids to have the same type of crippling anxiety they have themselves. My anxiety manifests in panic attacks and while they are infrequent, when they do happen they literally bring me to my knees. Before I realized what I was dealing with, I frequented my local emergency room one too many times because I was positive I was having a heart attack (although, I don't really know what a heart attack would feel like). Now I know what those chest pains were: distinct signs of a panic attack. Chest pains, I learned, are the precursor to a full-blown breakdown. Chest pains, I learned, are preceded by twitches, forgetfulness, exhaustion, confusion, and general sadness and numbness.
Last season of This Is Us shook me to the core, not just because of how amazing and heart-wrenching the stories are, but because of Sterling K. Brown's portrayal of Randall's panic attack, or nervous breakdown. Watching Brown so clearly and so realistically succumb to the overwhelming pressure of, well, life, wrapped me in a surreal haze. As I watched him slowly descend into his anxiety, each step felt so personal and so familiar. Without having to watch the rest of it, I knew what would happen. The scene of him debilitated in the corner of his office, completely swallowed by his own feelings, is the scene from my life.
In addition to anxiety, moms clearly don't want to pass on any of their negative attributes to their children. That's understandable, because why would we want our kids to have to deal with the same "personality flaws" we have to deal with. Even if these particular parts of us make us stronger, more resilient, or who we are as unique individuals, it's hard (read: impossible) to want our children to endure any kind of hardship. So with that in mind, here's what a list of moms are afraid of passing down to their children: