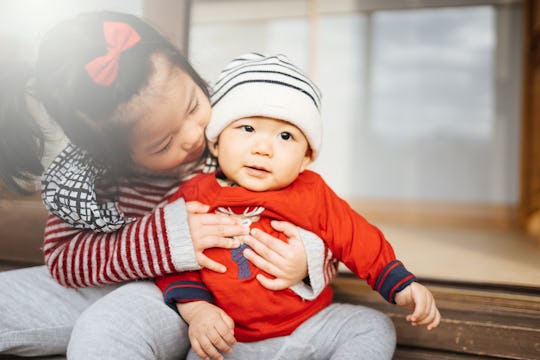 MIA Studio/Shutterstock
11 Examples Of Second Child Syndrome & Why Kid No. 2 Will Be Just Fine Anyway
They say that having one child is a life-changer, and having a second is a game-changer. In my opinion, no truer words have never been spoken. And there was a time, when I was pregnant, that I worried about changing the game. After all, the game was going pretty good, so why mess with a good thing? But our daughter fit right in the moment she arrived. Of course that's not to say it was always easy, the second child syndrome phenomenon — when kid number two gets the short end of the proverbial stick — is real. You'll feel bad about it, yes, but in the end everything turns out OK and so does your child.
The obvious differences between how you approach Child One and Child Two are apparent right away, including in pregnancy (if you were pregnant with both of your children, of course). My first pregnancy occupied my every waking thought. It's all I could focus on at times and I was always extremely aware of the fact that I was gestating. But I remember this one time, when I was pregnant with my second and talking to someone at a work event and he kept obliquely referencing my pregnancy and I had no idea what he was talking about because I'd completely forgotten I was even growing a human. (I was eight months along at this point, too.) The novelty of being pregnant for the first time had not only warn off, but once you have that first baby your attention is divided, well, basically for the rest of your life.
That divided attention was a source of guilt for a long time, but the fact of the matter is that the game does change when you have baby number two. The good news? You learn to play just fine.