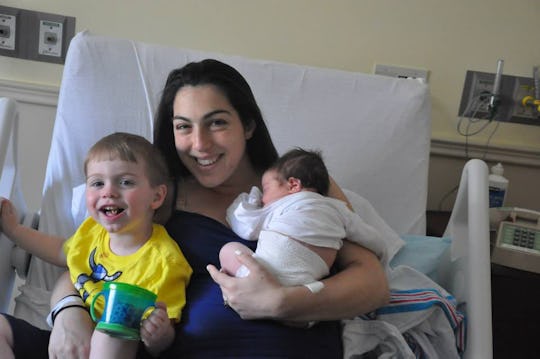 Photo courtesy of Jamie Kenney
11 Feelings That'll Change You Forever When Your Child Meets Their Sibling For The First Time
Welcoming a baby into your life is one of the most profound emotional experiences you can have. Welcoming a second baby is equally powerful, but completely unique. Because whereas having your first child will change your life, it's just your life (and you partner's, of course, if you're parenting as a pair). But when you have your second child, your first child's life will change, too. So there are a lot of emotions you experience when your child meets their sibling for the first time that will be new, even though this is far from your first rodeo.
Before my second child was born, my oldest didn't want to her a word about his future sibling. He was like a severe matriarch in a Tennessee Williams play who lives in denial and hisses commands but always maintains her composure. "Are you excited to meet your brother or sister?" I would ask. He would scowl back at me. "No. No sister. No brother." "But darling," I'd press. "Soon the baby is going to come live with us!" Stone-faced, my toddler would reply, "I do not want to talk about the baby." That would end any and all conversation and I would fret about what he was going to do when, indeed, his little sister made her big entrance.
Turns out all his surly brooding was nothing more than bluster. As soon as he saw her he declared, "Oh! She's so cute." Then he dissociated for about an hour and pretended to be a cat, but after that? Yeah, everything was cool. My emotions were, at least on the surface, far more complex, and I have a feeling yours will be, too.