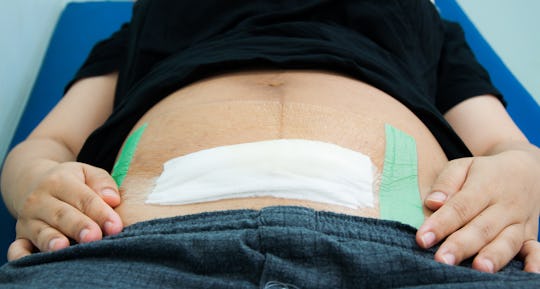 Kamon_Wongnon/Shutterstock
11 Moms Reveal The Real Reason Why They Choose To Have A C-Section
Even though C-sections are incredibly common in the United States, many C-section moms find themselves answering the question "Why?" Why did you choose a C-section? Most C-sections among first-time moms are a result of necessity rather than choice, but most women who had one C-section will choose another cesarean delivery for subsequent births. I asked moms to share the real reason they chose to have a C-section, either for a first or subsequent delivery, and their answers were both empowering and enlightening.
Only one of the women I talked to had what obstetricians would refer to as a "cesarean delivery on maternal request," which is defined as "a primary prelabor cesarean delivery on maternal request in the absence of any maternal or fetal indications." These account for a scant 2.5 percent of all births in the United States. Most C-sections performed are either prompted by medical necessity (either before or after a trial of labor) or are requested (and/or advised) after already having had a C-section. Only between 22 and 6 percent of women will deliver vaginally after a C-section (the broad range reflects VBAC rates by state), and that's generally because they opted for a C-section instead.
In talking to some fellow C-section mamas, I heard a lot of excellent reasons for choosing this method of delivery. Of course, we should be well aware that any safe choice that makes a woman more comfortable is a good reason, and she doesn't have to justify herself to anyone. Still, I think there's power in sharing stories and experiences, and, as always, I was wondered I could chat with a group of women about theirs.